How to apply for a Qatar visa online via the Hayya portal?
Applying for a Qatar visa online has never been easier with the user-friendly Hayya portal. The service previously used to issue Hayya cards (the analog of Fun ID for the Qatar World Cup) is back with expanded functionality. The Hayya Portal now allows you to apply for an electronic visa to Qatar. You can complete your visa application process hassle-free and conveniently from the comfort of your home in just a few simple steps detailed in our guidelines!
Table of contents
Qatar visa policy
Qatar has a relatively open visa policy, offering visa-free entry or visa-on-arrival to citizens of many countries for various purposes, such as tourism, business, and transit, while also providing online visa application options for those who require a visa in advance.
Who can apply for a Qatar visa online?
If you are not eligible for a visa on arrival in Qatar, you can apply for the visa online in a few easy steps through the Hayya Portal – hayya.qa or the 'Hayya' app. Eligible countries are:
Afghanistan
Aland Islands
Albania
Algeria
American Samoa
Andorra
Angola
Anguilla
Antigua and Barbuda
Argentina
Armenia
Aruba
Australia
Austria
Azerbaijan
Bahamas
Bangladesh
Barbados
Belarus
Belgium
Belize
Benin
Bermuda
Bhutan
Bolivia
Bosnia and Herzegovina
Botswana
Brazil
British Virgin Islands
Brunei Darussalam
Bulgaria
Burkina Faso
Burundi
Cambodia
Cameroon
Canada
Cape Verde
Cayman Islands
Central African Republic
Chad
Chile
China
Cocos Islands
Colombia
Comoros
Congo
Cook Islands
Costa Rica
Croatia
Cuba
Czech Republic
Democratic Republic of the Congo
Denmark
Djibouti
Dominica
Dominican Republic
Ecuador
El Salvador
Equatorial Guinea
Eritrea
Estonia
Ethiopia
Falkland Islands
Faroe Islands
Federated States of Micronesia
Fiji
Finland
France
French Guiana
French Polynesia
Gabon
Gambia
Georgia
Germany
Ghana
Gibraltar
Greece
Greenland
Grenada
Guadeloupe
Guam
Guatemala
Guernsey
Guinea
Guinea-Bissau
Guyana
Haiti
Honduras
Hong Kong
Hungary
Iceland
India
Indonesia
Iran
Iraq
Ireland
Isle of Man
Italy
Jamaica
Japan
Jersey
Jordan
Kazakhstan
Kenya
Kiribati
Kyrgyzstan
Laos
Latvia
Lebanon
Lesotho
Liberia
Libya
Liechtenstein
Lithuania
Luxembourg
Macau
Macedonia
Madagascar
Malawi
Malaysia
Maldives
Mali
Malta
Marshall Islands
Martinique
Mauritania
Mauritius
Mayotte
Mexico
Moldova
Monaco
Mongolia
Montenegro
Montserrat
Morocco
Mozambique
Myanmar
Namibia
Nauru
Nepal
Netherlands
New Caledonia
New Zealand
Nicaragua
Niger
Nigeria
Niue
Norfolk Island
North Korea
Northern Mariana Islands
Norway
Pakistan
Palau
Palestinian Territory
Panama
Papua New Guinea
Paraguay
Peru
Philippines
Pitcairn Islands
Poland
Portugal
Puerto Rico
Republic of Cyprus
Reunion
Romania
Russian Federation
Rwanda
Saint Barthelemy
Saint Helena
Saint Kitts and Nevis
Saint Lucia
Saint Martin
Saint Pierre and Miquelon
Saint Vincent and the Grenadines
Samoa
San Marino
Sao Tome and Principe
Senegal
Serbia
Seychelles
Sierra Leone
Singapore
Sint Maarten
Slovakia
Slovenia
Solomon Islands
Somalia
South Africa
South Georgia and the South Sandwich Islands
South Korea
South Sudan
Spain
Sri Lanka
Sudan
Suriname
Svalbard and Jan Mayen
Swaziland
Sweden
Switzerland
Syrian Arab Republic
Taiwan
Tajikistan
Tanzania
Thailand
Timor-Leste
Togo
Tokelau
Tonga
Trinidad and Tobago
Tunisia
Turkey
Turkmenistan
Tuvalu
Uganda
Ukraine
United Kingdom
United States
United States Virgin Islands
Uruguay
Uzbekistan
Vanuatu
Vatican City
Venezuela
Vietnam
Wallis and Futuna
Yemen
Zambia
Zimbabwe
Qatar e-visa categories
These are the visas you can apply for through the Hayya Portal:
Tourist Visa (A1): It is issued to foreigners not eligible for a visa on arrival. The standard Qatari tourist visa validity is 30 days.
GCC Resident Visa (A2) for GCC expatriates of all professions. To apply for one, you must have a valid residency of at least three months from the date of arrival in Qatar. A2 visa allows you to stay in Qatar for 30 days.
Visa with ETA (A3) for holders of valid visas or residency in the US, the UK, Canada, Schengen, Australia, or New Zealand. The difference in this category is that applicants do not have to book accommodation in advance.
Visa for Companion of the GCC Citizen (A4) for GCC citizens who want to travel with a companion;
'Hayya with Me' (c) for International Hayya Card holders who came to Qatar during the FIFA World Cup in Qatar can invite up to three family or friends to visit Qatar.
Besides, travelers entering Qatar through the Abu Samra land border with a vehicle can conveniently pre-register at Hayya to facilitate a smoother entry process.
Qatar e-visa application process
Here are the steps to take to get the e-visa on the Hayya portal:
Visit the Hayya portal or download a Hayya to Qatar app. Create an account providing your passport name, and proceed to "Apply for Hayya";
Choose the type of visa you need and fill out the relevant application form;
Upload your documents and input your profession;
Enter accommodation details;
Submit and pay the Qatari visa fee of QAR100;
Receive your visa by mail or in the Hayya application.
If you are traveling as a guest, the inviting person must fill out the visa application on your behalf.
Documents required to apply for a Qatar visa via Hayya portal
The general documents for all categories of Qatari eVisas are as follows:
Qatari visa application photo;
Valid passport;
Proof of accommodation (except for the A3 visa type).
For A2 and F4 visas, you will also need to provide a scan of your GCC residency.
To obtain a visa to Qatar under the 'Hayya with Me' program, you must provide an invitation code from a Hayya card holder.
Hayya photo requirements
The photo must be in color;
The Qatari evisa photo size must not be more than 2MB;
The photo must be taken within 12 months;
The Hayya photo format must be JPG or JPEG;
The photo size is 30 mm in width and 40 mm in height;
The height of your head in the photo (from chin to crown) ranges at 34mm, while the height of the negative space above your head is 4mm;
The background is plain light gray with no shadows or extraneous objects;
The photo must be high quality, with no blurs, pixelation, or other distortions;
Your eyes must be open and look directly into the camera;
Your face must be centered in the picture;
No head accessories allowed except for religious head covering;
Facial features must be clearly shown;
You must be clearly identifiable from the photo, so no photo enhancements are allowed.
Here is an example of a Qatar visa photo: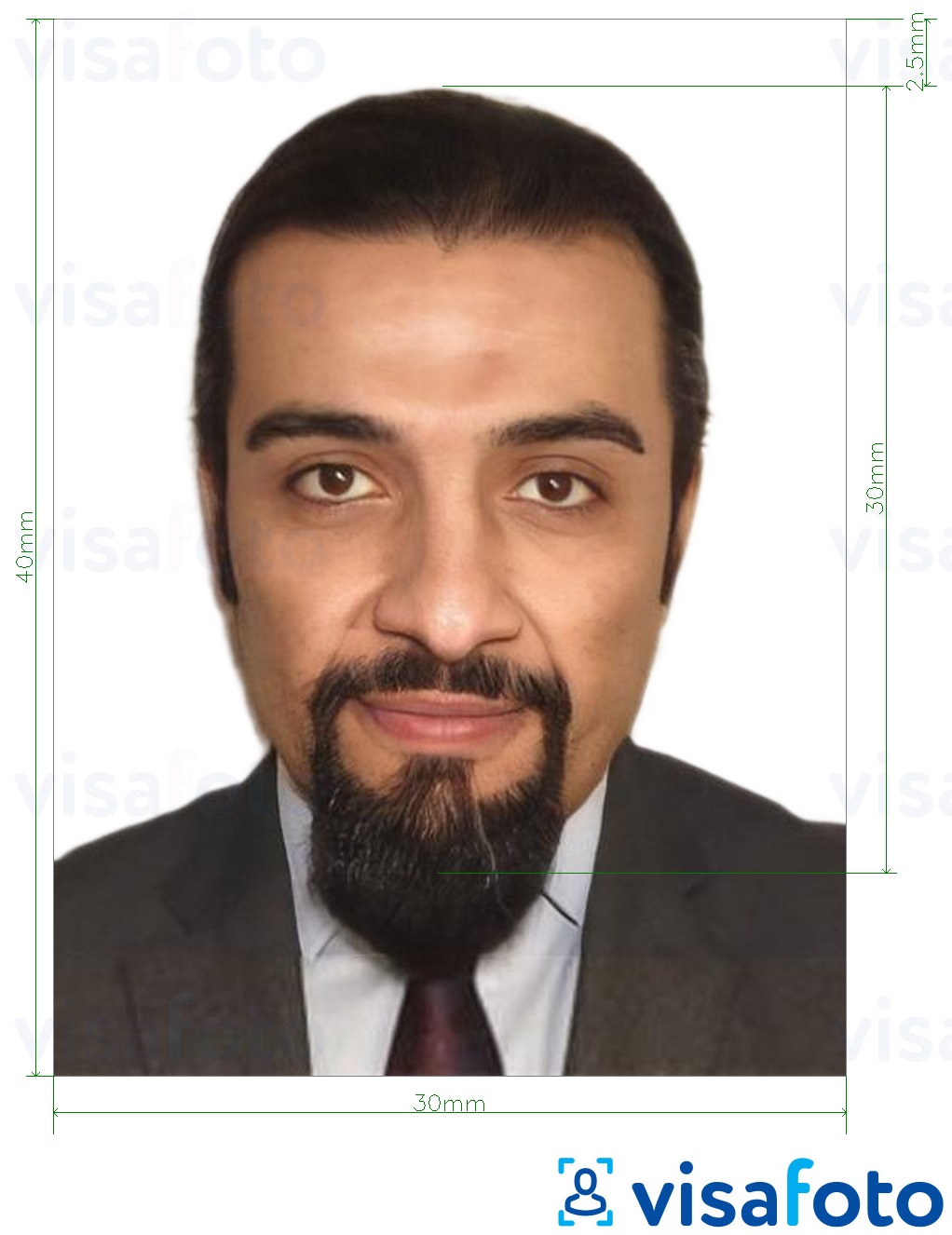 Get a Qatar e-visa photo for the Hayya platform online!
Need to get a photo to apply for a Qatari visa through Hayya? Visafoto can help you! It has been helping people get their photos for various documents, including visas, passports, and IDs, since 2013.
Just take a picture of yourself under good lighting, with proper posing and outfit for an ID, then upload it to our tool below.
Visafoto will instantly adjust the background, size and format to satisfy the Qatar e-visa through Hayya specifications. You will get a digital photo you can instantly use for your electronic application!
Take an image with a smartphone or camera against any background, upload it here and instantly get a professional photo for your visa, passport or ID.
Source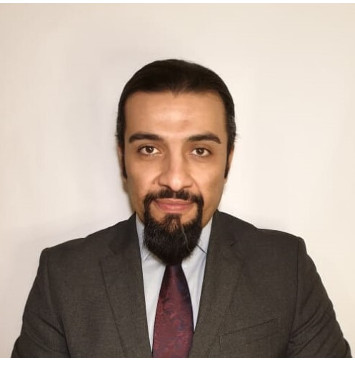 Result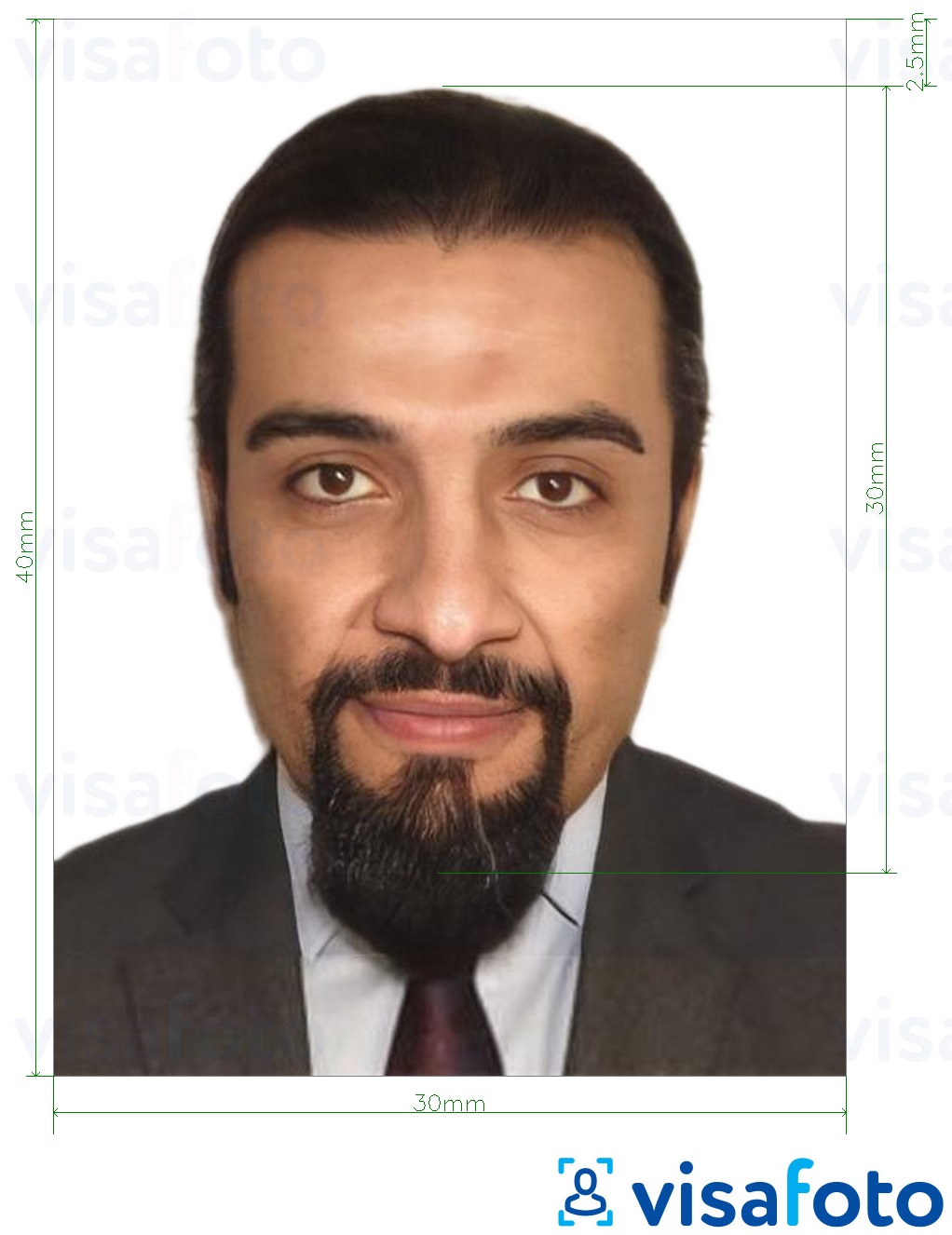 First, take a photo of yours like this one: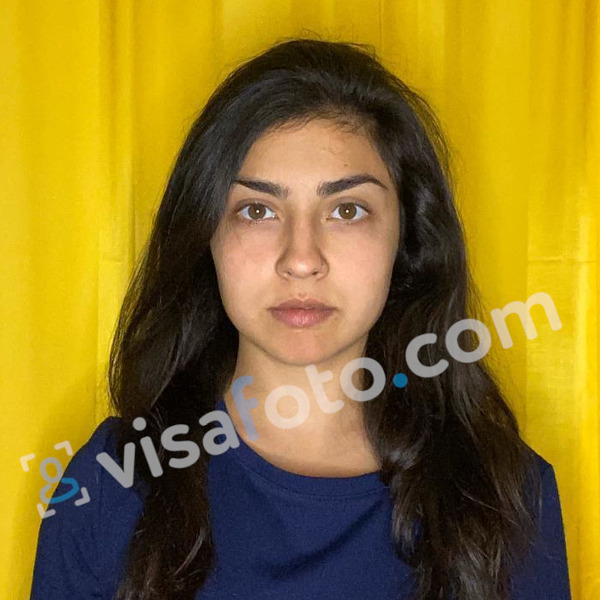 You will have two photos. A digital one is for electronic applications and another one is for printing.
Qatar e-visa fees
All visa applications on the Hayya portal cost QAR100.
Qatar e-visa validity
Qatar e-visas applied through Hayya are valid for a stay of up to 30 days from the date of issue.