Taiwan Alien Resident Certificate (ARC) Application Guide
If you're a foreigner planning to stay in Taiwan for an extended period, one of the first things you'll need to do is apply for an Alien Resident Certificate (ARC). Here's a comprehensive guideline to help you navigate the process and ensure a smooth application.
Table of contents
What is an Alien Resident Certificate? ARC explained
Long-term or permanent residents of Taiwan who don't have household registration in Taiwan are issued a Resident Certificate, which serves as their identity document and allows them to stay in the country for up to 3 years. It's a mandatory document for anyone planning to spend more than six months in Taiwan.
The ARC is proof of the holder's legal residency status and contains important information such as the holder's name, photo, date of birth, and ARC number.
It's worth noting that under Taiwanese laws, all nationals with household registration are provided with a National Identification Card.
How to become a resident of Taiwan?
To legally reside in Taiwan for an extended period, you must fall under one of the following categories:
Spouses and children of Taiwanese citizens;
Entrepreneurs investing in businesses in Taiwan;
Students enrolled in Taiwanese educational institutions;
Workers employed by Taiwanese companies. Priority for employment is given to highly skilled professionals in technology, finance, and research fields;
Dependents of Taiwanese citizens or legal residents.
To become eligible for a permanent residency permit in Taiwan, you must have legally resided there for five consecutive years and have been physically present for at least 183 days each year. Additionally, you must earn a monthly income at least twice the minimum wage set by the Council of Labor Affairs and have a net worth of over NTD5,000,000.
Alternatively, you can apply for permanent residency by investing NTD15,000,000 in a business and creating five full-time jobs for ROC nationals over three years or investing NTD30,000,000 in ROC government bonds for over three years. Unlike the first option, this scheme does not require you to be physically present in Taiwan during your residency.
How to apply for Taiwan Alien Resident Certificate?
Within 15 days of arriving in Taiwan, you must apply for the ARC at the National Immigration Agency (NIA). The type of residence permit you to apply for and the required documents will depend on your situation.
You must gather the required documents, including your passport, health certificate, two passport-sized photos, and a completed application form. You should submit these documents to the local National Immigration Agency service center nearest your residence. You may contact Taiwan's immigration agency at boi@immigration.gov.tw.
Certain foreigners, such as students, must apply for ARC online. The online ARC application must provide a passport, resident visa, proof of accommodation, and admission certificate.
You will also need to pay an application fee based on the validity period of your ARC.
ARC requirements
Here are the documents required for ARC applications:
Original passport with resident visa;
Documentary proof of the reason for residency application. Examples include:

Joining family: Proof of family relationship (such as birth certificate, marriage certificate, household registration transcript, national ID card, ARC, or resident visa annotated with family relationship);
Employment: Letter of approval issued by the competent authority of the industry concerned and an in-service certificate issued within one month;
Attending school: Student card with registration stamp for the current semester or certification of student status issued within one month (first-time applicants must submit a letter of admission).

One color photograph;
Letter of authorization: Where another person is authorized to submit the application on behalf of the applicant, a letter of authorization must be presented;
Proof of current place of residence.
Alien Resident Certificate photo requirements
Make sure the photo you use to apply fulfills the following:
The required ARC photo size is 34x45 millimeters;
Head height (up to the top of the hair) should range about 34.5 mm, while the distance from the top of the image to the hair must be 4.5 mm
The background must be plain white, with no shadows or extraneous objects;
Your face must be at the center of the photo;
Your head must not touch any border of the photo: there must be some negative space left. Long hair may touch the lower border of the photo;
The photo must not be older than six months old;
Your whole face, from the crown to the chin, must be clearly shown;
Use of head covering is only allowed for religious or medical reasons but must not cover facial features;
Hair may not cover the eyes and ears;
Your eyes must be looking straight at the camera;
Your facial expression must be neutral;
Retouches or edits that change facial features or skin color are not allowed;
Eyeglasses are allowed but may not cover the eyes: the lens must not be colored (except for medical reasons), and the frame must not obscure facial features.
Here is an example: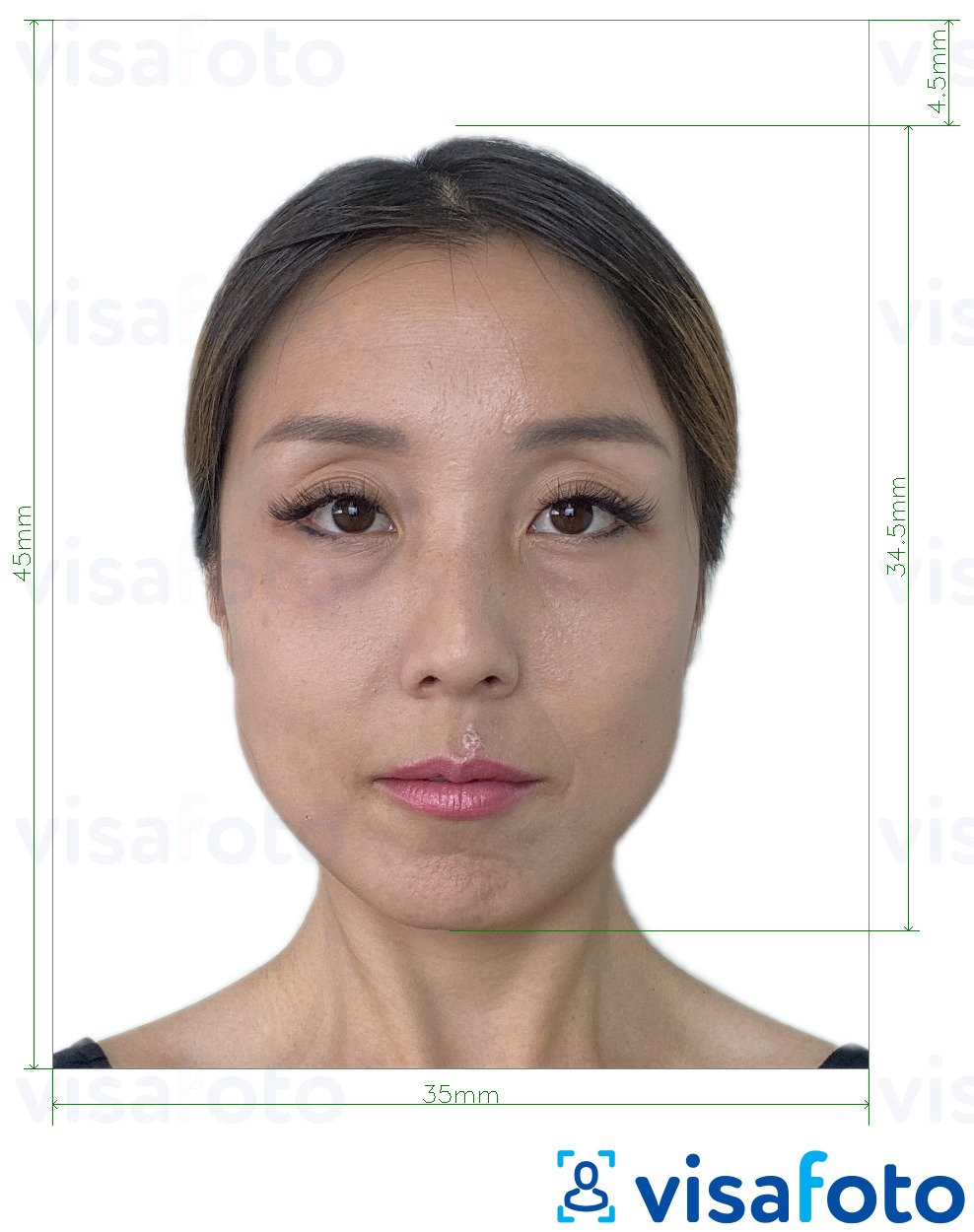 Get an ARC photo online!
Settling in a new country can be complicated, and making that process smoother can take some of that burden off your shoulder. One of the places you can do that is by using a professional online photo editor to ensure your ARC application photo fulfills all the requirements, ensuring compliance.
We recommend using Visafoto, an online photo editor that has been adjusting photographs for various documents worldwide since 2013. It will make sure your photo fulfills all the requirements needed.
Take an image with a smartphone or camera against any background, upload it here and instantly get a professional photo for your visa, passport or ID.
Source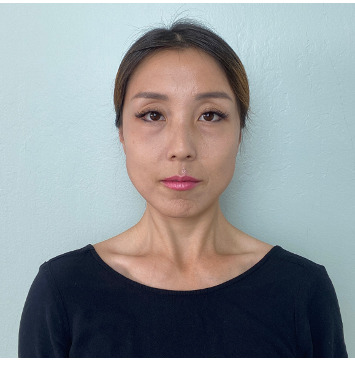 Result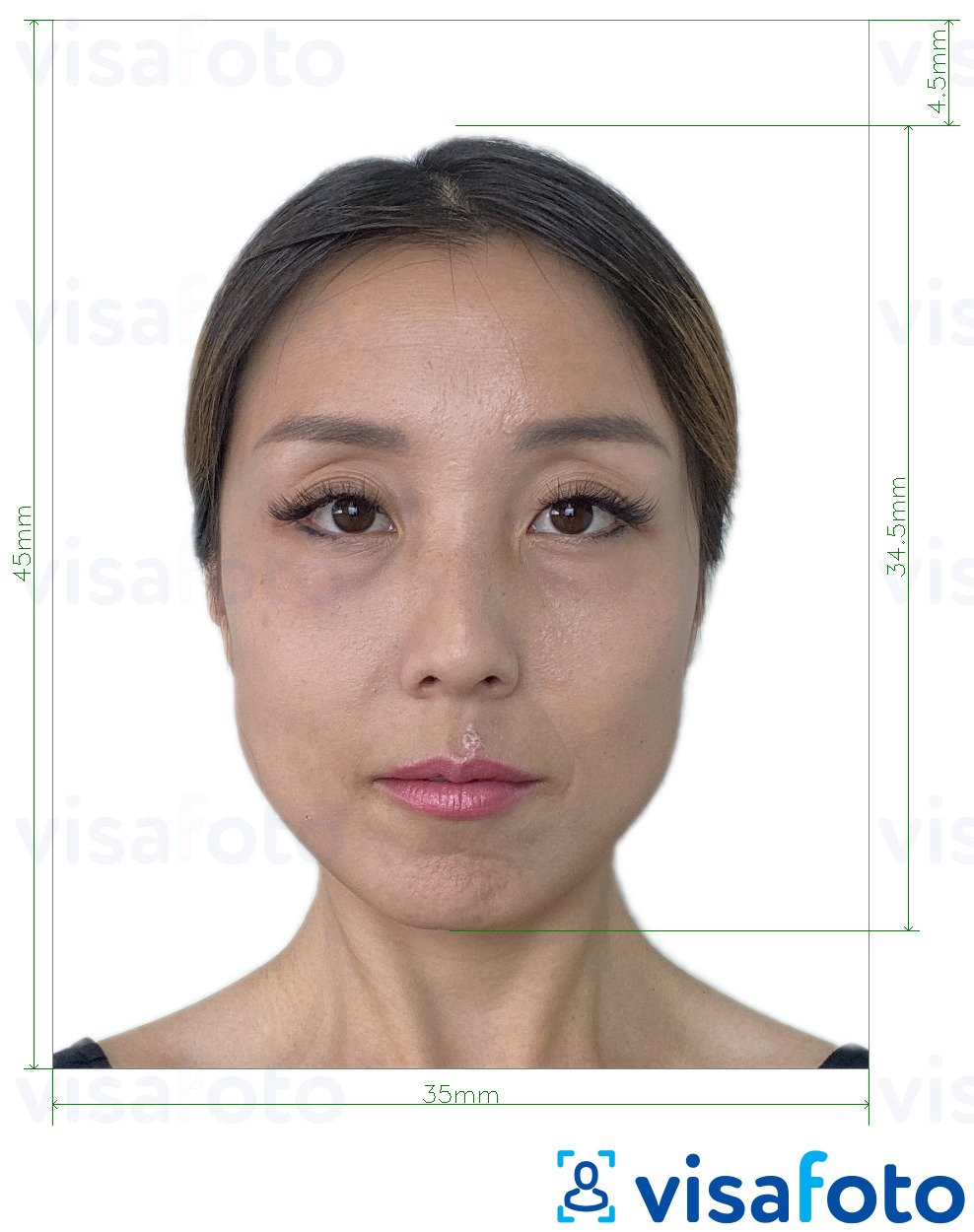 Just take a picture of yourself following the guidelines stated above. Don't worry about the size, background, positions, and proportions: Visafoto will care for the rest!
Take an image with a smartphone or camera against any background, upload it here, and instantly get a professional photo for your visa, passport, or ID.
First, take a photo of yours under daylight like this one: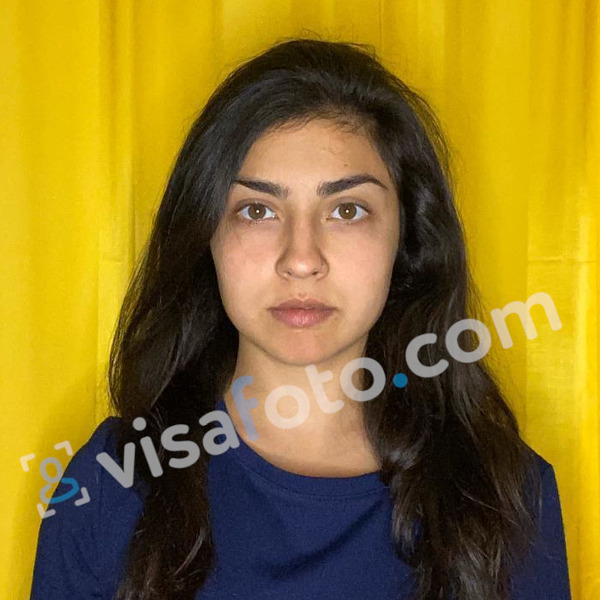 You will get a digital photo like this one:
Taiwan Alien Resident Certificate fees
The fees depend on the validity period and type of service:
NT$1,000 for one-year validity;
NT$2,000 for two-year validity;
NT$3,000 for three-year validity;
NT$4,000 for four-year validity;
NT$5,000 for five-year validity;
NT$500 for Overseas Chinese students;
NT$500 for replacement ARC.
How long does it take to get an ARC in Taiwan?
The processing time may vary depending on the workload of the place you apply at, but it usually takes 10 working days to get your ARC after application.
Alien Resident Certificate renewal
Renewing an ARC is the same as applying for a new one, except you must attach your current ARC to your application. You will also need to provide a new ID photo, as it must be taken no earlier than six months before the application.
Do ARC holders need a re-entry permit for leaving Taiwan?
Alien residents, including ARC holders wishing to leave Taiwan and return, must apply for a re-entry permit through the Service Center before departure.