Taiwan e-Visa Application
In this era of hyperactivity, some governments are ready to welcome people from all over the world to enter their country and make that process easier for them. Taiwan has released an electronic visa system. Can you enter Taiwan? What will you need?
Table of contents
Taiwan e-visa eligibility
Not everyone who wants to enter Taiwan can apply for an electronic visa. So who can apply for a Taiwan e-visa?
First of all, electronic visas are only valid for tourist and business visits and for attending events or visiting relatives. Simply put, it is only for short-term stays. If you are going to apply to study or work in Taiwan, you will have to apply for a visa at your local Taiwanese mission.
Once the travel purpose is sorted out, your eligibility depends on your citizenship. There are several groups of countries:
Eligible for a Taiwan e-visa, given that you satisfy the criteria
Bahrain, Burkina Faso, Colombia, Dominica, Ecuador, Kiribati, Kuwait, Mauritius, Montenegro, Oman, Panama, Peru, Qatar, Saudi Arabia, Solomon Islands, Turkey, United Arab Emirates, Kosovo, or Bosnia-Herzegovina, you may apply.
Eligible if invited to attend international conferences, sporting events, trade fairs, or other activities in Taiwan organized, co-organized, or sponsored by central government agencies of Taiwan
All foreign countries. Citizens of the Democratic People's Republic of Korea are only eligible if invited to a sporting event in Taiwan.
Eligible if you're in a tourist group under the "Project for Simplifying Visa Regulations for High-end Group Tourists from Southeast Asian Countries"
Cambodia, India, Indonesia, Laos, Myanmar, and Vietnam.
Eligible if conducting business at the recommendation of local offices of the Taiwan External Trade Development Council (TAITRA)
Bangladesh, Bhutan, India, Iran, Nepal, Pakistan, and Sri Lanka.
Taiwan e-visa application steps
You can apply for a Taiwan e-visa in a few easy steps:
1. Apply on the official site
Open the official e-visa portal of the Bureau of Consular Affairs and fill out your details.
2. If needed, submit additional documents via email
If there are additional documents you will need to submit, you will be contacted via email. Submit your documents via email within the deadline stated in the email.
3. Pay for the application fee
You may only pay the application fee online using a credit card or debit card (MasterCard/Visa/JCB).
The Taiwan visa cost is NT$1,600, while the online payment fee is NT$46. These fees are not refundable, including if your visa application is denied or you decide not to use your visa.
Citizens of Bosnia and Herzegovina, Colombia, Kiribati, Kosovo, Mauritius, Montenegro, Panama, Peru, Solomon Islands, and Turkey may get their electronic visas without a cost.
4. Get your visa and print it
After your application is approved, you will get a link to view your electronic visa. Don't forget to print your visa, as you will be required to show it upon entry to Taiwan.
Documents required to apply for a Taiwan e-visa
Not many documents are needed to apply for an electronic visa to enter Taiwan.
You will need your valid passport, which may be ordinary, official, or diplomatic. Your passport must be valid for at least six months at the moment of application. Other travel documents, such as emergency and temporary travel documents, are not allowed to be used as a basis for Taiwan e-visa application.
Other than that, you may be asked to submit additional documents. The Taiwanese Bureau of Consular Affairs does not specify which documents they may be, but be ready to present these documents:
Documents that prove your travel purpose. For example:

If you are invited to attend a conference, be prepared to show your invitation;
If you are visiting to do business meetings, you may be asked the details of the company with which you are going to conduct business;

An application photo that satisfies Taiwan visa photo requirements.
Taiwan e-visa application photo requirements
The photograph you use to apply for a Taiwanese visa must fulfill the following requirements:
The photo must be 45 x 35 mm in size;
The background must be plain white, with no shadows nor extraneous objects;
The camera resolution must be at least 3 MP with the best possible saturation and quality;
Your face must be at the center of the photo;
Your head must not touch any border of the photo: there must be some negative space left. Long hair may touch the lower border of the photo;
The photo must not be older than six months old;
Your whole face, from the crown to the chin must be clearly shown;
Use of head covering is only allowed for religious or medical reasons but must not cover facial features;
Hair may not cover the eyes and ears;
Your eyes must be looking straight at the camera;
Your facial expression must be neutral;
Retouches or edits that change facial features or skin color are not allowed;
Use of eyeglasses are allowed, but their use may not cover the eyes: the lens must not be colored (except for medical reasons) and the frame must not obscure facial features;
Here is an example: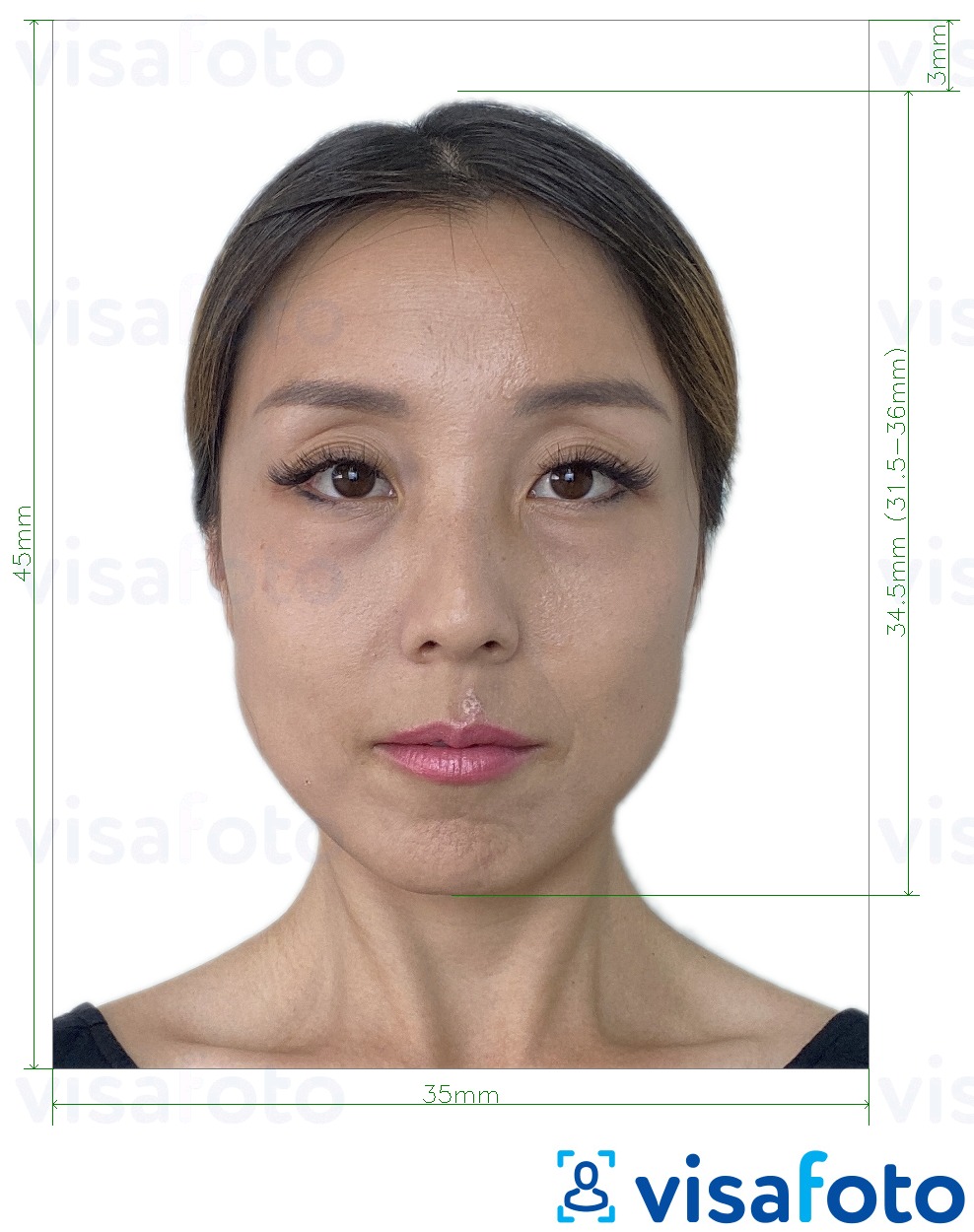 Get a Taiwan e-visa photo online quickly
Applying for a visa to enter Taiwan has never been easier, but don't let that make you slip up with your documents. Ensure your photo is up to par to ensure a smooth application process.
We recommend using Visafoto, an online photo editor that has been adjusting photographs for various documents worldwide since 2013. It will make sure your photo fulfills all the requirements needed.
Take an image with a smartphone or camera against any background, upload it here and instantly get a professional photo for your visa, passport or ID.
Source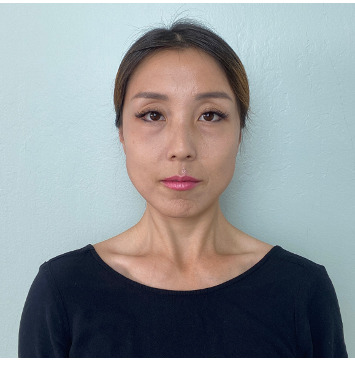 Result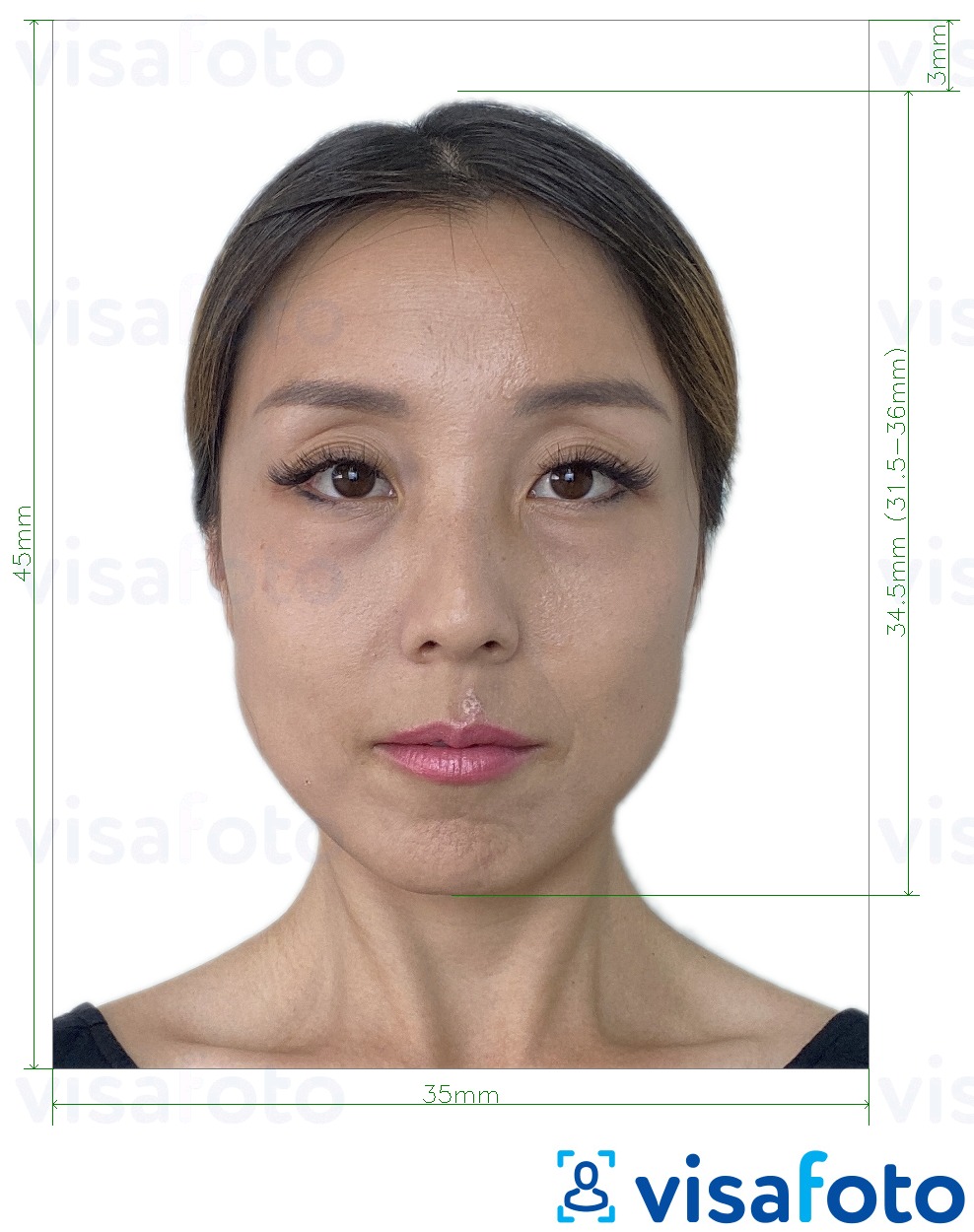 Just take a picture of yourself following the guidelines stated above. Don't worry about the size, background, positions, and proportions: Visafoto will take care of the rest!
Take an image with a smartphone or camera against any background, upload it here, and instantly get a professional photo for your visa, passport, or ID.
First, take a photo of yours under daylight like this one: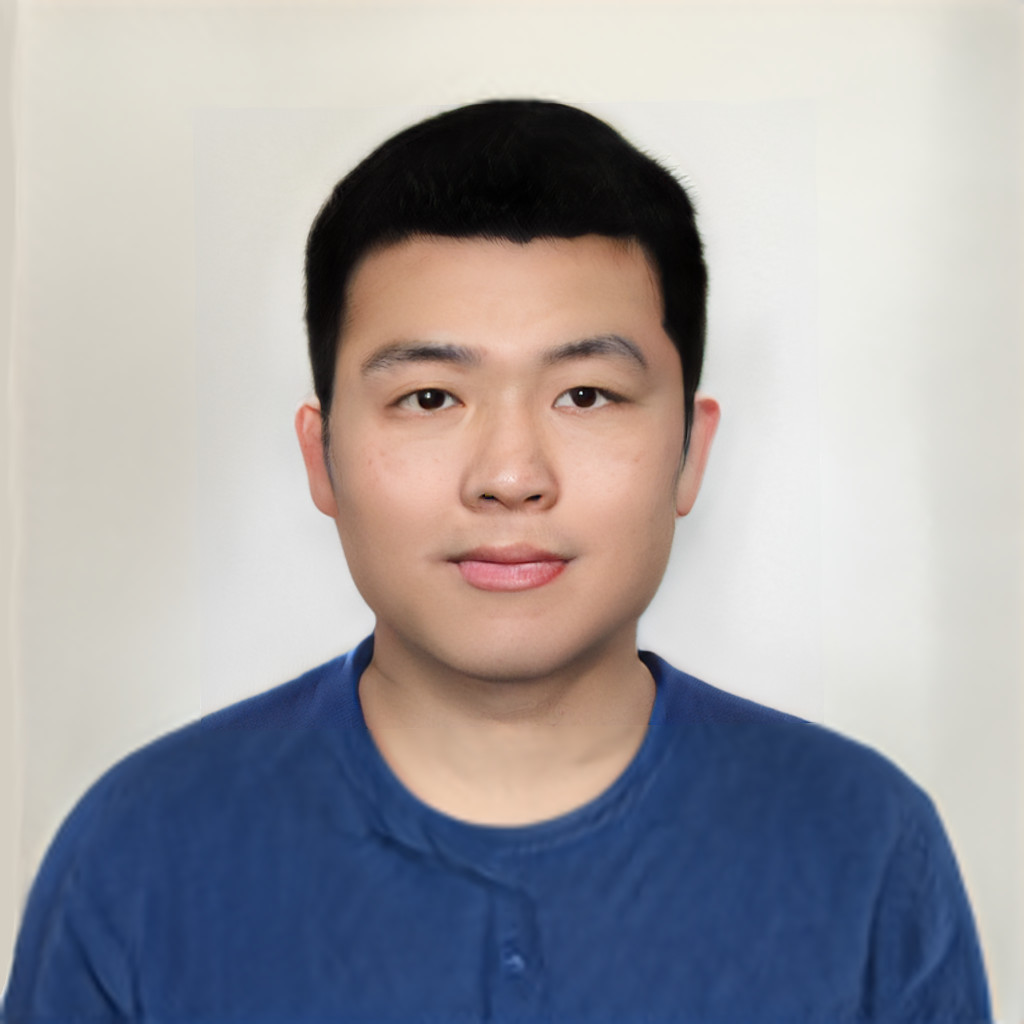 You will get a digital photo like this one: