UAE 5-Year Visa: How to Apply
If you frequently visit the UAE and contemplate the possibility of applying for a long-term multiple-entry tourist visa, rest assured that the application process can be easily navigated if you adhere to these essential steps.
By following these guidelines, you can confidently secure your extended stay in the captivating United Arab Emirates, enabling you to make the most of your visits and experience the country's diverse attractions and rich culture to the fullest.
Table of contents
UAE 5-year tourist visa rules
Valid for five years, this visa allows for stays in Dubai and other emirates for up to 90 days at a time. Additionally, the visa allows the flexibility to extend one's stay within the Emirates for an additional 90 days.
The application process is straightforward, with the convenience of applying directly through the ICP's website or app from anywhere in the world without sponsorship.
Note that this visa is suitable for tourist and visitor purposes only. Working in the Emirates is prohibited; you must apply for a separate permit for legitimate employment.
Who is eligible to get a 5-year visa to UAE?
The United Arab Emirates welcomes citizens from all nations to obtain long-term entry permits, opening its doors to a diverse range of travelers and visitors. However, it's essential to note that there are specific visa bans in place for certain countries, and citizens from those nations are excluded from obtaining long-term entry permits.
The Emirates visa ban list includes Congo, Comoros, Uganda, the Dominican Republic, Democratic Republic of Congo, Sierra Leone, Cameroon, Nigeria, Liberia, Burundi, the Republic of Guinea, Guinea Bissau, Gambia, Ghana, Togo, Senegal, Benin, Ivory Coast, Rwanda, Sudan, and Burkina Faso.
If you don't find your country among mentioned above, you can apply for a 5-year Dubai visa, provided you meet the following requirements:
Your passport must be valid for a minimum of six months, counted from the date of your 5-year UAE visa application;
You need to have valid medical insurance coverage for your stay in the UAE. It must be valid for at least 180 days;
Provide a bank statement from the past six months showing a minimum balance of $4,000 or its equivalent according to the current conversion rate;
Include your local UAE address, landline, and mobile number in the application.
How to apply for a UAE long-term visa online?
Follow these easy steps to apply for the 5-year UAE visa:
Visit the ICP (ex-ICA) or GDRFA website and find "Visa-multiple entry-longterm (for 5 years) for all nationalities" under "Public services";
Complete the application form;
Append the necessary documents, as described in the following section;
Make the visa application fee payment online, using a credit or debit card;
Submit your application.
Do not forget to review your application details and documents before submitting, making sure of their accuracy and compliance.
Documents required for UAE 5-year visa application
Here are the documents you need to apply:
Bank statement covering the past six months, indicating a balance of USD 4,000 or equivalent;
Valid UAE health insurance evidence;
Photocopies of the first and last pages of your passport;
Recent passport-sized photographs meeting the specified requirements;
One of the following:

Copy of your flight ticket to UAE and proof of residence;
Invitation letter from friends and/or family in the UAE;
Confirmation of hotel booking or a lease agreement in the UAE.
Emirates visa photo requirements
To be accepted, the photos you use for this visa application have to fulfill these requirements:
The UAE photo size should be 55 x 43 mm; however, for ICP website applications, a 35x45 photo is required.
Ensure the photo has a plain white background without any shadows or additional objects.
The height of your head, from crown to chin, should occupy 70-80% of the photo's height.
Maintain a neutral facial expression (no need to smile or frown) and look directly into the camera.
Note that head coverings are not allowed, except for religious or medical reasons.
Here is an example: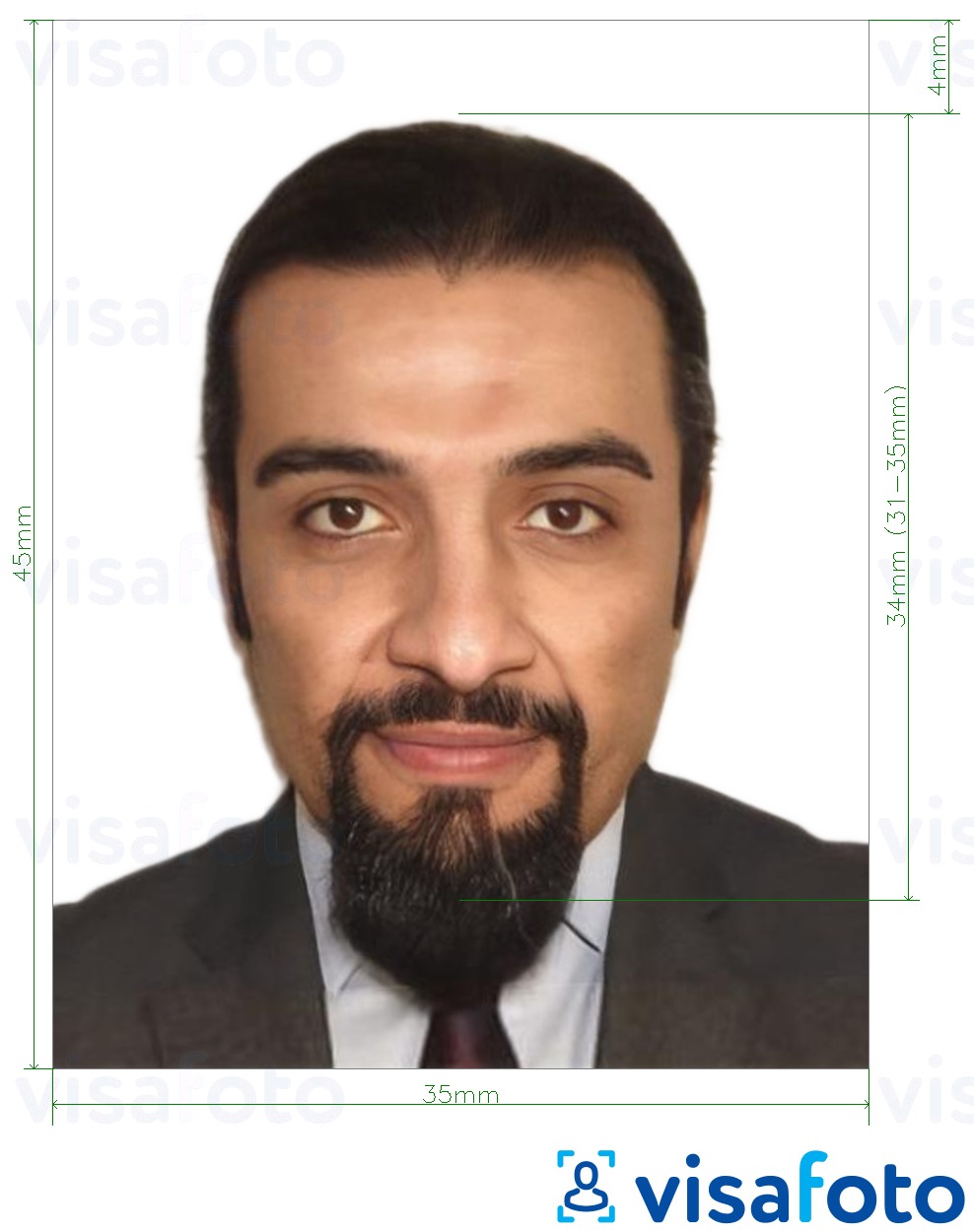 Get a digital photo for your UAE visa application online!
As mentioned earlier, Emirates visa photos have specific requirements that include details like the size of your head in the picture. We suggest using our professional visa photo editor to ensure your visa photo meets these requirements and to avoid any delays.
Visafoto has been processing photos for various documents worldwide since 2013. It can adjust the size, resolution, background, and finer details such as head proportions and tilt.
To get your visa photo, simply take a portrait (or even a selfie) in good lighting, ensuring all your facial features are clearly visible. Remember to follow the posing and dress code tips mentioned earlier, with a preference for business formal or smart casual attire – nothing too casual or flashy.
Afterward, upload your photo to the ID photo tool below, which will cover the rest.
Take an image with a smartphone or camera against any background, upload it here and instantly get a professional photo for your visa, passport or ID.
Source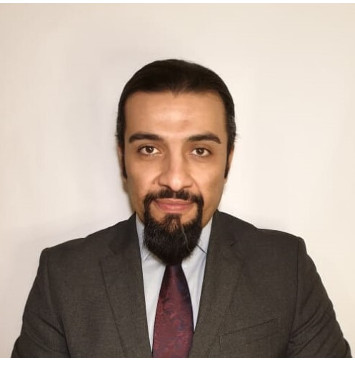 Result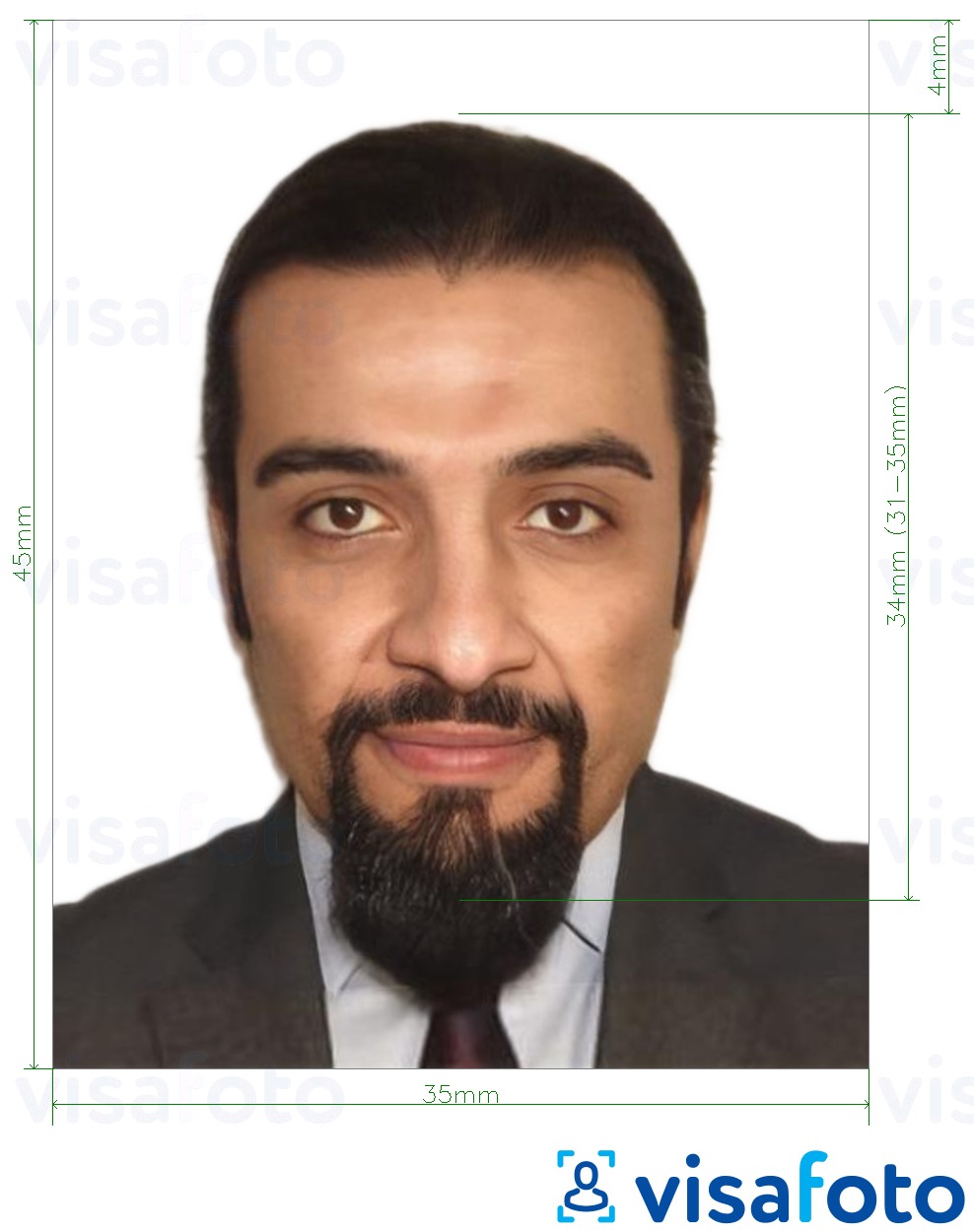 First, take a photo of yours under daylight like this one: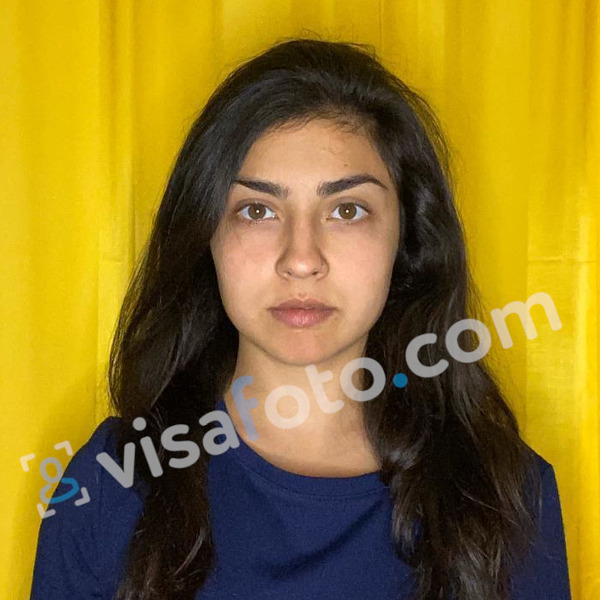 Visafoto will provide you with two files: a digital photo for electronic applications and a template ready for printing.
UAE 5-year visa insurance requirements
The insurance must be accepted in Emirati territory and valid for 180 days.
UAE 5-year tourist visa fees
Depending on your application method, the long-term visa to Emirates will cost you up to AED 1750. You must also pay a refundable security deposit fee of 3025 AED.
UAE long-term visa processing time
It takes approximately 48 hours for your online visa application to be processed. Note that application processing does not guarantee acceptance. It only signifies the time it takes for your application to receive a decision on the visa.
How to check your UAE visa status?
If you applied through the ICA portal, the website allows you to check your status using your email and application number.