DV Lottery Requirements: Eligibility Checklist
Within the realm of immigration opportunities, one program stands distinct for facilitating entry into the United States – the Diversity Visa (DV) Lottery. Often recognized colloquially as the "Green Card Lottery," this initiative holds significance as a pathway to permanent residency in the U.S.A. However, understanding the eligibility requirements is crucial to maximize your chances of success.
In this guideline, we aim to equip potential applicants with a profound comprehension of the DV Lottery's conditions, ensuring an informed and prepared approach to pursuing the prospect of a new life in the United States.
Table of contents
What is DV Lottery ("Green Card Lottery")?
The Diversity Visa (DV) lottery, also known as the Green Card lottery, is a program run by the United States government that provides an opportunity for participants worldwide to apply for a chance to obtain an American permanent residence permit, commonly known as a Green Card.
Green Card allows its holder to live, work, and study in the United States permanently and to apply for American citizenship after 5 years of residing in the USA.
DV Lottery winners are chosen through a randomized computer drawing. This program aims to promote diversity and increase the cultural mix of immigrants coming to the United States.
You must complete the online application form on the official DV Program website to participate. You must provide personal information, including your name, date of birth, country of birth, and more. Be sure to enter all the data accurately. At this link, you can check the contents of the Green Card lottery entry form and practice filling it out. Attention - the questionnaire at the link is for informational purposes only!
Is the Green Card lottery free?
Yes, participation in the DV lottery is typically free of charge. The U.S. government does not charge a fee to enter the Diversity Visa program. However, applicants should be cautious of potential scams or fraudulent websites claiming assistance in exchange for a fee. It's important only to use the official U.S. government website to submit an entry.
DV Lottery age requirements
You must be 18 years old when submitting your DV lottery entry. There is no maximum age limit to participate in the lottery.
The primary applicant can include their spouse and any unmarried children under 21 in the DV Lottery application. Family members do not need to meet a specific age requirement, as long as they meet the relationship criteria.
Countries eligible for DV Lottery 2025
The list of countries eligible for the Diversity Visa program changes from year to year based on immigration statistics.
As a rule, the list of countries whose citizens cannot participate in the Green Card Lottery is published closer to the beginning of the program. Usually, there are no more than 20 such countries. Stay tuned for updates!
Is a passport required to enter the DV Lottery?
Since 2022, you don't need a passport for the Green Card Lottery, as you don't have to provide passport information when you submit your entry.
However, suppose you are selected as a winner and proceed with the diversity visa application process. In that case, you will need a valid passport to submit your documents and attend an interview.
DV Lottery photo requirements
When submitting the DV lottery entry, you must attach digital photographs of yourself and each family member. Make sure that the photo you use to apply fulfills the following parameters:
The minimum DV Lottery photo dimensions are typically 600 pixels wide by 600 pixels tall. The maximum measurements are generally 1200 pixels wide by 1200 pixels tall;
The file size should not exceed 240 KB;
The background should be plain white;
The applicant must face the camera directly with a neutral facial expression and both eyes open;
The face should occupy from 50 to 70% of the image;
The picture must be in color;
Photo must be taken within the last six months;
Glasses are not allowed (including prescription ones);
There mustn't be any objects or other people in the picture;
The face must be photographed in full and front view;
"Red eye" photos are not permitted;
There shouldn't be solid shadows or glares in the photo;
Head coverings or hats are prohibited unless worn daily for religious beliefs or medical reasons. However, the face must be visible from the bottom of the chin to the top of the forehead and from ear to ear;
Sunglasses and other accessories that obscure the face are not permitted;
The photo should be clear and of high quality.
Here is an example: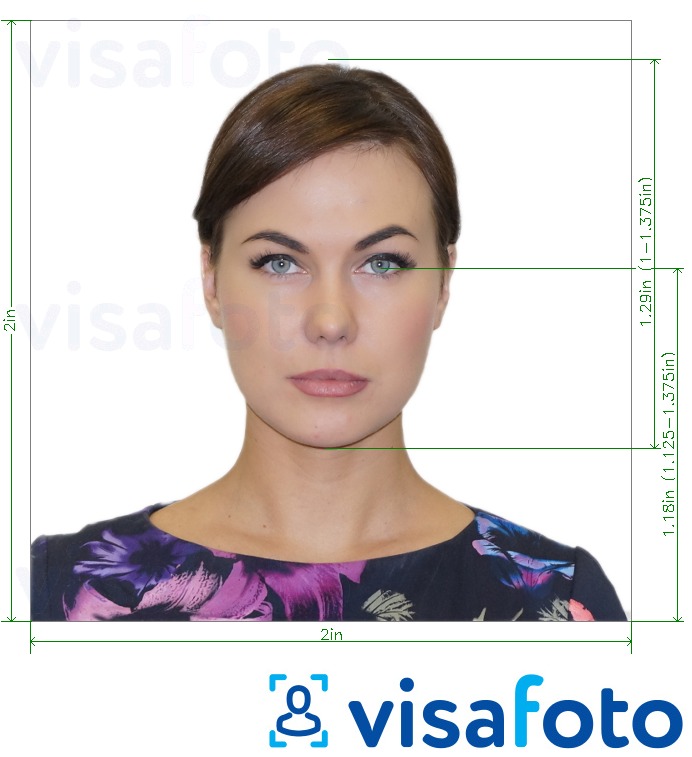 This online tool allows you to check your Green Card Lottery photo for free.
DV Lottery photo maker
Utilizing an online photo maker like Visafoto brings valuable benefits when preparing an image for the Diversity Visa (DV) Lottery. This streamlined platform allows you to conveniently create a DV-compliant photo from the comfort of your own space.
You can capture an image that adheres precisely to the DV lottery's strict specifications using your smartphone or camera. Visafoto ensures correct sizing, suitable background removal, and formatting. Simplify and expedite your DV lottery application by harnessing the efficiency and professionalism of Visafoto's online photo creation service.
Visafoto grants a 100% guarantee. If you are not satisfied with the result, we will replace the photo for free or provide a refund. Contact our support for any questions.
Take an image with a smartphone or camera against any background, upload it here and instantly get a professional photo for your visa, passport or ID.
Source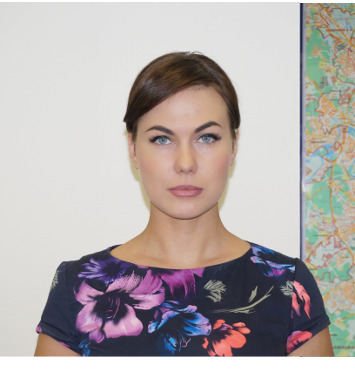 Result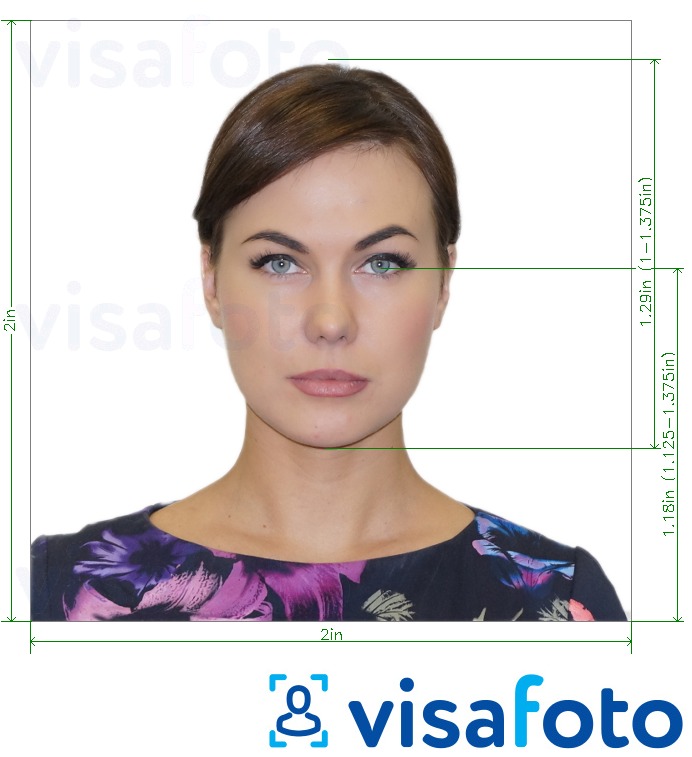 Take an image with a smartphone or camera against any background, upload it here, and instantly get a professional photo for your visa, passport, or ID.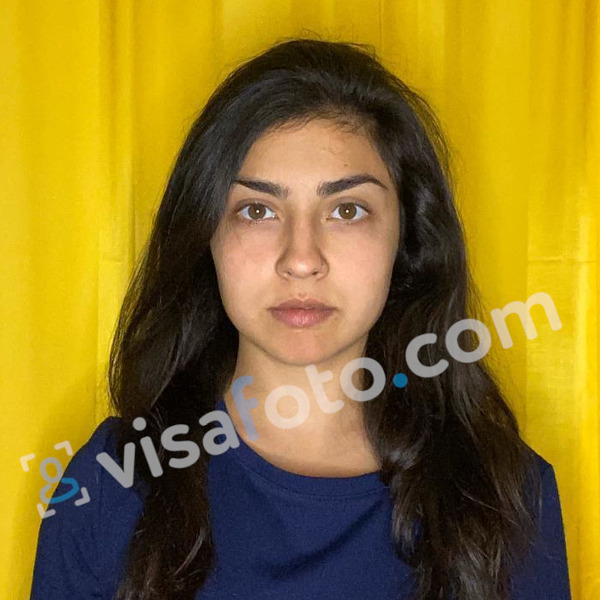 You will get two files from Visafoto: a digital photo for electronic applications and a template ready for printing.
Minimum education requirements for DV lottery
You must have at least a high school education or equivalent to participate in the DV program. This is typically defined as completing a 12-year elementary and secondary education course or a diploma equivalent to a U.S. high school diploma.
If you don't meet this education requirement, you may still qualify if you have two years of work experience within the last five years in an occupation that requires at least two years of training or experience.
DV Lottery job requirements
The Diversity Visa (DV) Lottery doesn't have specific job requirements. However, suppose you don't meet the education requirement. In that case, you can still qualify by having two years of work experience within the last five years in an occupation that requires at least two years of training or experience. A qualifying occupation refers to a job that falls under a specific set of occupational categories established by the U.S. Department of Labor's O*NET Online database. These categories include various professions, such as management, business, finance, healthcare, education, arts, sciences, skilled trades, and more.
But in general, the DV lottery primarily promotes diversity among immigrants to the United States and is not based on specific job qualifications. So if you meet the basic educational requirements, you shouldn't worry about your professional background.
DV Lottery essential rules and restrictions
The Diversity Visa (DV) Lottery has several essential rules and restrictions that applicants must adhere to:
One entry per person: Everyone can submit only one DV lottery entry annually. Submitting multiple entries will result in disqualification;
Eligibility criteria: Applicants must meet the education or work experience requirements as outlined in the DV lottery instructions;
Entry Period: The DV lottery entry period is usually a specific time frame each year, as announced by the U.S. Department of State. Entries submitted outside this period are not considered;
Fraud prevention: Providing false information, using fraudulent documents, or engaging in deceptive practices can lead to disqualification and legal consequences;
Random selection: Winners are selected through a computer-generated random drawing. Being selected does not guarantee a visa; it only provides the opportunity to apply for one;
Visa application and interview: If selected, winners must complete a visa application and attend an interview at a U.S. embassy or consulate. Meeting medical and security requirements is essential.
Requirements after winning the DV Lottery
If you win the Green Card lottery, there are several essential requirements that you need to fulfill:
Submit DS-260 form: The DS-260 form is an online visa application you must complete. It gathers personal and background information;
Pay required fees: There are processing fees associated with the visa application, and they must be paid as instructed by the U.S. Department of State;
Undergo medical examination: DV lottery winners and their family members must undergo an examination by an authorized physician. This procedure ensures that you meet the health requirements for visa issuance;
Attend visa interview: You will be scheduled for a visa interview at a U.S. embassy or consulate. During the interview, you will need to provide supporting documents, including your passport, visa application, photographs, and any required civil documents;
Security and background checks: The U.S. government conducts security and background checks on all applicants. These checks are an essential part of the visa approval process;
Visa issuance: If your visa application is approved, you will receive a visa stamp in your passport, allowing you to travel to the United States and apply for admission as a permanent resident;
Travel and activate visa: Once you have your visa, you must travel to the United States before the expiration date on your visa stamp. Upon arrival, you will be inspected at a U.S. entry port to activate your immigrant status.
Here is a detailed guideline on how to check your Green Card lottery results and what to do next.