H1B visa to Green Card: how-to
The H1B work visa entitles a foreign national to work legally in the United States. It also allows applying for a Green Card in the future. This article will explain how to obtain a Green Card on an H1B work visa study and the documents you need to provide.
Table of contents
H1-B visa requirements
The US H1B is a non-immigrant visa that allows US companies to employ foreign workers for a period of up to 6 years.
In order to be granted an H1B visa, the applicant must meet the following conditions:
A minimum of a bachelor's degree;
Work experience in a relevant field of study;
In the absence of higher education, proof that the applicant has professional skills equivalent to those of a graduate. For this purpose, the applicant must have 12 or more years of work experience in the professional field.
The H1B work visa must initially be applied by the employer. The entrepreneur wishing to employ the applicant is obliged to request an entry permit. The detailed process for obtaining an H1B visa is described in this article.
If a person wants to stay in the U.S. for more than 6 years and has a valid H1B visa, s/he has the right to apply for permanent residency, i.e. Green Card.
A green card in 2022 allows a person to be a legal permanent resident of the United States. It can be obtained if the H1B employer is willing to sponsor the applicant. Thus, a person first obtains an H1B work visa, comes to the United States, and begins working for the employer. Then, within 3-6 years, the employer can help with the Green Card application.
How to convert an H1B visa to Green Card?
The Green Card on a work visa is issued at the request of a U.S. employer. The applicant must provide:
Diploma and its supplement translated into English;
A resume (CV) - also in English;
Reference about employment history;
Reference from the previous place of employment.
The employer must confirm the possibility of hiring: he must fill out several forms, specify the salary to be provided, describe the working conditions, and the responsibilities of the employee.
When determining the list of documents, you must also take into account the circumstances. If the applicant is moving with his or her spouse or children, he or she must provide proof of marriage and birth certificates for the children, respectively.
In order to officially obtain a Green Card for employment after relocation, the following steps must be followed:
Get a labor certificate (PERM)
PERM is a certificate allowing permanent employment in the United States. The responsibility for this step lies with your employer. He/she must establish the prevailing wage for your position and assign you a salary in accordance with this amount. It is also the employer's responsibility to prove that there are no qualified people suitable for your position in the United States. To do this he/she must post several advertisements for your position. To do this he must place several vacancy announcements in one of the local newspapers and employment agencies. If no one else is available for the position within a month, the employer can complete the ETA 9809 petition. The petition will take six to eight months to process.
Fill out the I-140 petition
Once you have received your PERM, you can move on to the next petition: Form I-140 ("Petition for Immigration for a Foreign Worker"). This must also be done by the employer.
Submit Form I-485
This step must be done by the applicant. Form I-485 is a petition to change from provisional status to U.S. permanent residency. The petition fee is $1,140. Additionally, there is a biometrics fee: $85. Once the petition is approved (the H1B to Green Card timeline can take 6 to 12 months), you will receive your Green Card in the mail.
Documents required to obtain a Green Card through H1B visa:
Form I-485 (application for permanent residence);
Form G-28 (to be completed by your attorney or other representative, if involved);
2 passport-sized photos, the requirements for which we list below;
I-765 (application for a work permit if you plan to conduct work activities while I-485 is pending);
I-131 (application for a travel document if you want to travel around the States during the I-485 review);
G-325A (curriculum vitae);
I-693 (medical examination);
I-864 (certificate of financial support).
Green Card photo requirements in 2022
You must provide a color photo;
The background of the Green Card photo must be light;
Headdresses are prohibited, but hijabs and other religious paraphernalia that the applicant wears at all times are acceptable;
The head must occupy 50-69% of the entire height of the photograph;
There should be no shadows in the photo;
The format must be square;
The required size of the Green Card photo is 2" x 2";
Glasses are not allowed, even prescripted ones. This rule has been in effect since 2016;
The gaze should be neutral, eyes open, and you should look straight into the camera;
The photo cannot be more than six months old. Ideally, you should have your picture taken right before you apply.
Here is an example: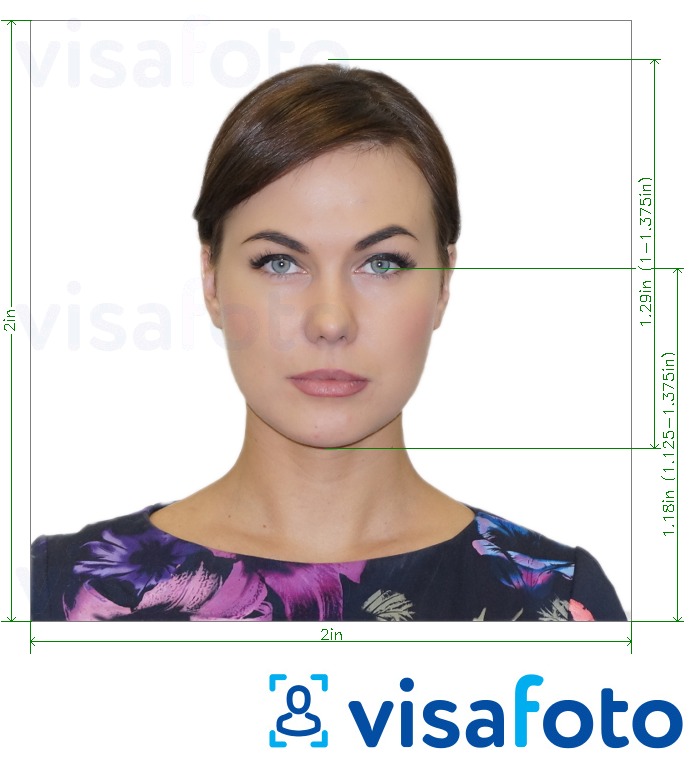 Get a Green Card photo online!
To get your photo accepted without any issues, it's important to meet all the necessary parameters. How do you quickly find a trusted site where you can have your portrait processed for a U.S. Green Card?
Take an image with a smartphone or camera against any background, upload it here and instantly get a professional photo for your visa, passport or ID.
Source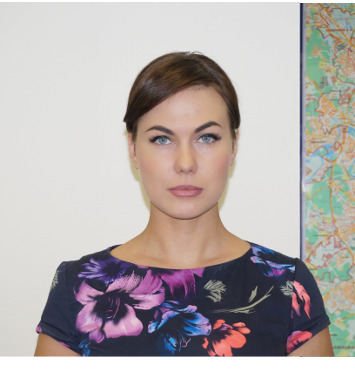 Result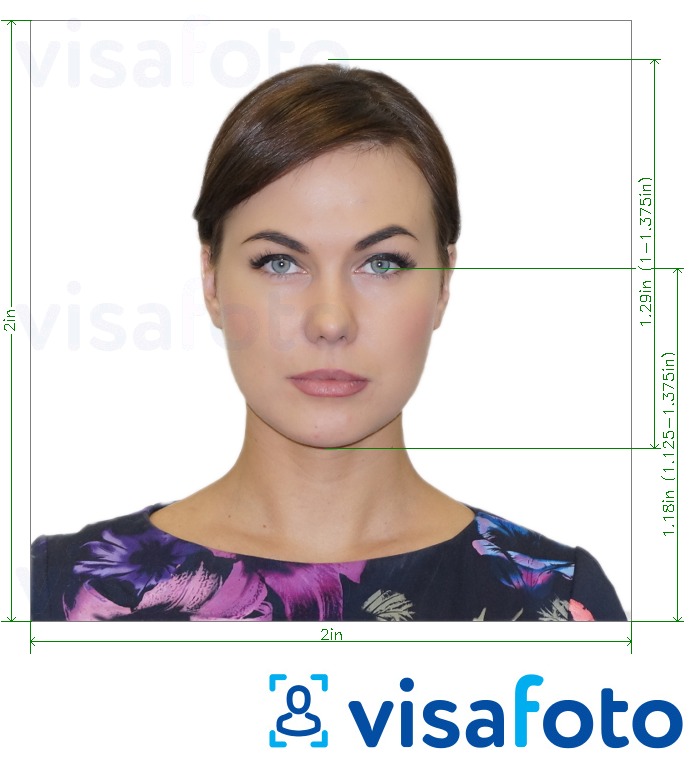 We suggest using Visafoto, an online document photo editor. Here, you will get a photo that meets all the established parameters in no time. All you need to do is:
Dress appropriately, respecting the dress code requirements. Choose dark colors, preferably contrasting with a light background. Do not use a lot of jewelry or excessive makeup. Remember, you should be easily identifiable from your Green Card photo;
Take a picture in full-face against any background with even lighting. The camera should be at face level.
Upload your picture to Visafoto.
Download the image. Done!
Source photo (example):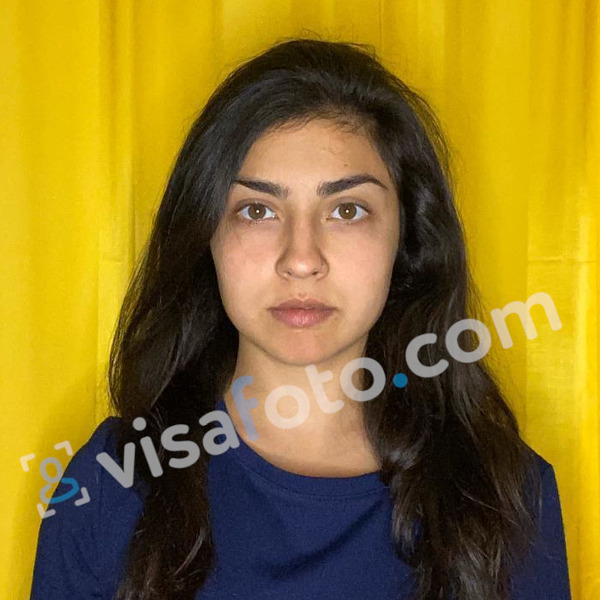 You will get 2 versions of a Green Card photo: for online submission and for printing
Visafoto photo editor has since 2013 been processing photos for different types of documents: visas, residency permits, medical records, driver's licenses, and many others. You have the ability to get your 2022 Green Card photo inexpensively and almost instantly, which is sure to be accepted!
Visafoto photos are accepted 99.7% of the time. If there are any surprises, which are only 0.03% likely, we are ready to give you a refund or replace the photo with a new one instantly.
Good luck in getting your H1B Green Card!