Vietnam E-Visa Application And Photo
With the increasing appetite of people worldwide to travel internationally and the advancement of technology, it's now easier than ever to apply for visitor visas. One of the ways countries are making this easier is through electronic visas, which are also available for eligible nationals looking to enter Vietnam.
Table of contents
Is it possible to travel to Vietnam visa-free?
As of 2023, citizens of 25 countries can enter Vietnam without a visa. For some of this list, beginning August 15, 2023, the visa-free stay period will be 45 days, instead of previous 15 days. Nationals of Panama and Chile can spend in Vietnam up to 90 days.
Countries whose citizens are eligible to travel to Vietnam visa-free are as follows: Belarus, Brunei, Cambodia, Chile, Denmark, Finland, France, Germany, Indonesia, Italy, Japan, Kyrgyzstan, Laos, Malaysia, Myanmar, Norway, Panama, Philippines, Russia, Singapore, South Korea, Spain, Sweden, Thailand, United Kingdom.
If your country is not in this list, you need to get a visa for Vietnam before traveling,
Countries eligible for e-Visa to Vietnam
Citizens of eighty countries can enter Vietnam with an electronic visa. Below is the complete list; have a look if your country is eligible:
Andorra,
Argentina,
Armenia,
Australia,
Austria,
Azerbaijan,
Belarus,
Belgium,
Bosnia and Herzegovina,
Brazil,
Brunei Darussalam,
Bulgaria,
Canada,
Chile,
China (including Hong Kong SAR and Macau SAR passport holders, but not applicable to Chinese e-passport holders),
Colombia,
Croatia,
Cuba,
Cyprus,
The Czech Republic,
Denmark,
Estonia,
Fiji,
Finland,
France,
Georgia,
Germany,
Greece,
Hungary,
Iceland,
India,
Ireland,
Italy,
Japan,
Kazakhstan,
Latvia,
Liechtenstein,
Lithuania,
Luxembourg,
Macedonia,
Malta,
The Marshall Islands,
Mexico,
Micronesia,
Moldova,
Monaco,
Mongolia,
Montenegro,
Myanmar,
Nauru,
Netherlands,
New Zealand,
Norway,
Palau,
Panama,
Philippines,
Poland,
Portugal,
Qatar,
The Republic of Korea,
Romania,
Russia,
ons Islands,
San Marino,
Serbia,
Slovakia,
Slovenia,
Spain,
Sweden,
Switzerland,
Timor Leste,
The United Arab Emirates,
The United Kingdom of Great Britain and Northern Ireland,
The United States of America,
Uruguay,
Vanuatu,
Venezuela,
Western Samoa.
What is the difference between Vietnamese e-Visa and visa-on-arrival?
The main difference is its form. The Vietnamese e-visa is issued in a pdf file and does not have to have a physical form stamped to your visa like a conventional visa. On the other hand, a visa on arrival gets stamped on your passport once you arrive in Vietnam. However, you will still need to register online in advance to get your visa on arrival stamped at your port of entry.
Vietnam E-visa application process
You can apply for a Vietnamese visa online in only several steps:
Visit the Vietnamese official immigration portal and apply for an electronic visa "for foreigners";
Fill out your personal data and passport details, as well as your photograph;
Pay the US$25 fee online;
Save the registration code you have received. You will need this number for later verification and downloading of the visa.
The Vietnam e-visa waiting time will take three business days. After it is processed, your visa will be available on this link . You must enter your registration code, e-mail, and date of birth to access it. Download the visa in pdf format and print it out. Upon arrival in Vietnam, present your visa along with your passport at the immigration counter.
Documents required for an online visa to Vietnam
To apply for an electronic visa to enter Vietnam, have these documents ready:
Your passport, valid for at least six months after arrival date with at least two blank pages, as well as scans of its personal data page;
Visa application photo fulfilling requirements;
Credit or debit card for payment.
Vietnam visa photo requirements
To make sure your picture will be accepted, make sure that it matches the following specifications:
Depending on the country you apply from, the visa photo size must be 4 x 6 cm or 2 x 2 inches
The background must be plain white, with no shadows nor other objects;
Your face must be at the center of the photo;
Your head must not touch any border of the photo: there must be some negative space left. Long hair may touch the lower border of the image;
The picture must not be older than six months old;
Your whole face, from the crown to the chin must be clearly shown;
Use of head covering is only allowed for religious or medical reasons but must not cover facial features;
Hair may not cover the eyes and ears;
Your eyes must be looking straight at the camera;
Your facial expression must be neutral;
Retouches or edits that change facial features or skin color are not allowed;
Eyeglasses are allowed, but they may not cover the eyes: the lens must not be colored (except for medical reasons), and the frame must not obscure facial features.
Here is a sample: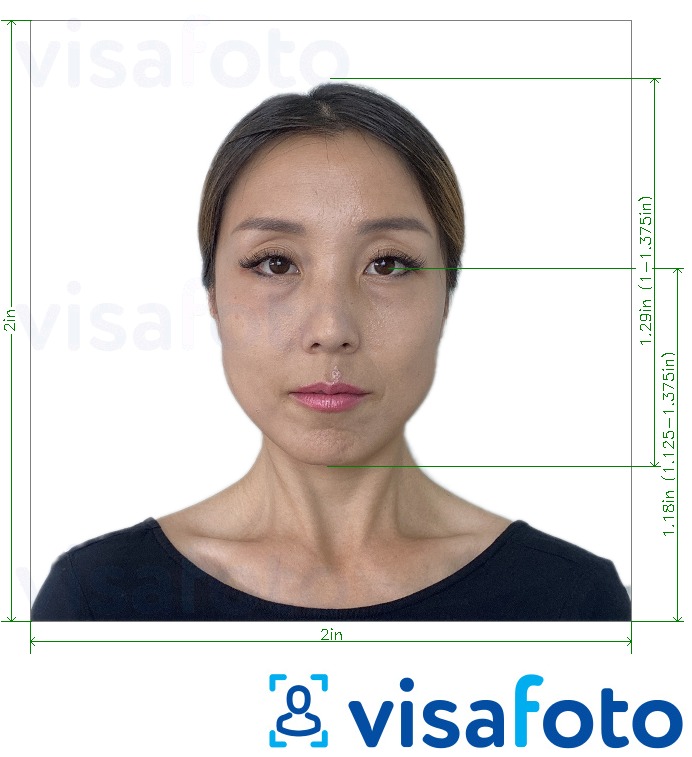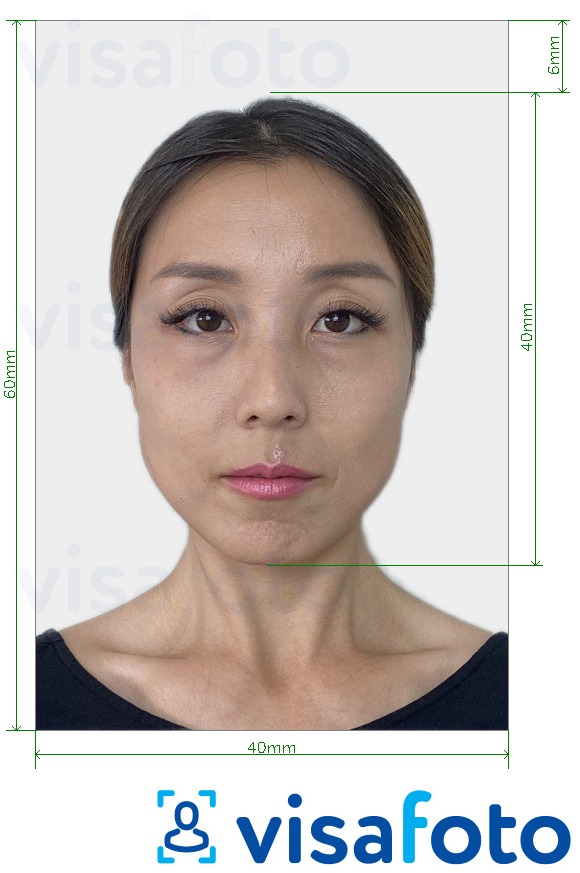 Get a digital photo for the Vietnam e-visa application online
Applying for a visa to enter Vietnam has never been more accessible, but don't let that make you slip up with your documents. Ensure your photo is up to par to ensure a smooth application process.
We recommend using Visafoto, an online photo editor adjusting photographs for various documents worldwide since 2013. It will make sure your photo fulfills all the parameters needed.
Take an image with a smartphone or camera against any background, upload it here and instantly get a professional photo for your visa, passport or ID.
Source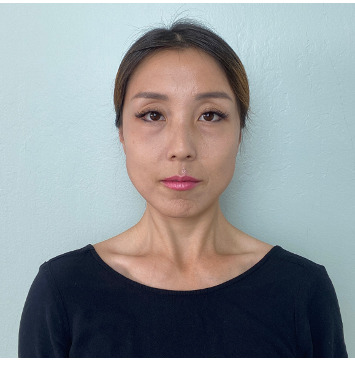 Result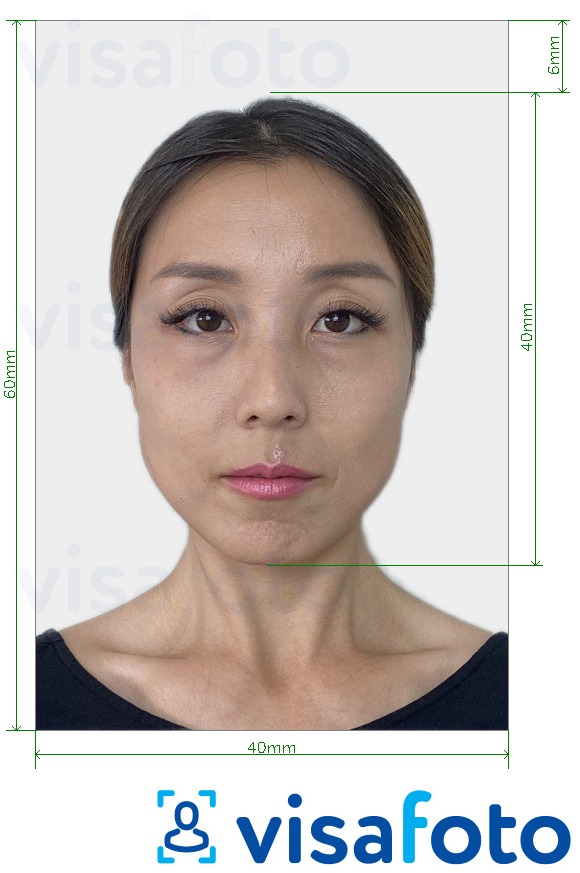 Just take a picture of yourself following the guidelines stated above. Don't worry about the size, background, positions, and proportions: Visafoto will take care of the rest!
Take an image with a smartphone or camera against any background, upload it here, and instantly get a professional photo for your visa, passport, or ID.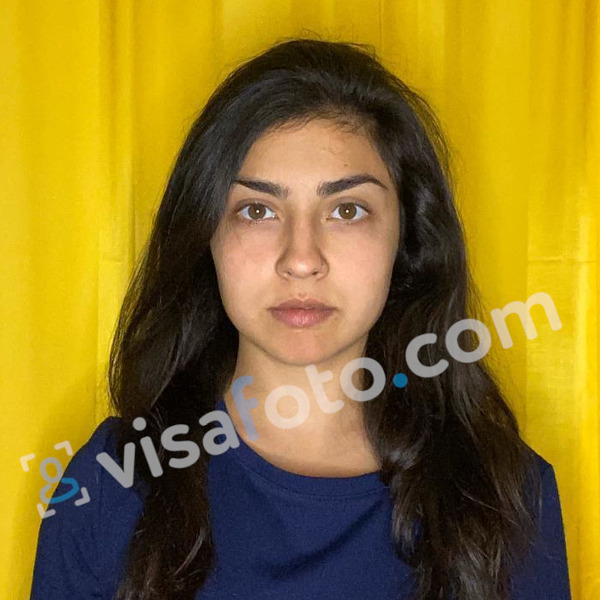 You will get a digital photo like this one:
Vietnam e-Visa costs
It costs 25 USD to apply for a Vietnamese electronic visa. As is usually the case with visa application fees, this fee is also not refundable.
Vietnam e-Visa validity
Starting from August 2023, the Vietnam online visa duration will be 90 days (previously it was only 30 days). The extended visa will allow multiple entries into the country.
How to extend your Vietnamese e-Visa
After entering Vietnam on a tourist visa, you can extend your period of stay in the country once. To do so, you need to apply to the territorial office of the Department of Entry and Exit of the Ministry of Public Security of Vietnam, provide your passport, a questionnaire filled out on a special form, and two photos printed on matte paper. The approximate visa extension processing time is 5 days.
However, in practice, visa extension service is not available in most cities in Vietnam. Another option is to make a so-called "visarun": leave for a neighboring country (for example, Cambodia), issue a new e-visa, and return to Vietnam with it.
Last update: August 2023