Temporary Residence in Colombia: Migrant Visa
If you are a foreigner who wants to live and work in Colombia, you need to apply for a migrant visa. This guideline covers all the migrant visa details, from the eligibility criteria that open the doors to temporary residence to the documents required to support your application. So, let's learn more about obtaining a Migrant Visa for temporary residence in Colombia.
Table of contents
Colombia migrant visa explained
The Colombian Migrant Visa is required for those staying in Colombia for more than 180 days. or if your stay is related to any work. If you're traveling to Colombia for work, you'll need to get this visa, even if your stay will be less than 180 days.
It is a permit that allows foreign nationals to live in Colombia temporarily. It encompasses various subcategories tailored to specific purposes such as work, investment, family reunification, or retirement. The maximum validity of this visa is 3 years and can be extended.
Colombia migrant visa categories
Colombian migrant visas are divided into categories based on the purpose:
Marriage visa: Aimed at reuniting families where one member is a Colombian citizen or resident.
Work visa: intended for individuals with a job offer from a Colombian employer or those seeking to establish a business there.
Student visa: for students pursuing an undergraduate program in a government-approved Colombian institution.
Investment visa: for individuals planning to invest in Colombian businesses or real estate.
Retirement visa: designed for individuals with stable pension or retirement income.
Religious visa: issued to employees of religious organizations for activities in Colombia.
Refugee visa.
Colombia migrant visa application steps
Follow these steps to apply for a Colombian migrant visa online:
Start your application at the official Colombian visa application website;
Fill out your personal data and choose your needed visa type: M type for migrant;
Upload your photo and other required documents;
Select the Colombian embassy/consulate to submit your application;
Wait for a notification on your email and for processing;
Visit the embassy/consulate to continue and receive your visa.
Here, you can check detailed guidelines on submitting a Colombian visa application online.
Documents required for Colombia migrant visa application
The basic requirements for all categories are as follows:
Your passport;
Application form, completed
A visa application photo;
Copy of previous Colombian visas, if applicable;
Copy of proof of entry to Colombia (passport stamp);
Bank statements;
Insurance policy.
Besides these requirements, there are specifications based on the category of visa you're applying for. For example, for the work category, you will need documents related to your work qualifications and contract.
Colombia digital visa photo requirements
The digital photo for a Colombian visa must fulfill the following parameters:
The image size is 3 cm in width and 4 cm in height (in printed form);
The visa picture has to be recent;
The image must have adequate brightness and contrast and show natural skin tone;
It should show a close-up of the head and (partial) shoulders;
Your head must be looking straight forward, centered with neutral expression, in sharp focus, and clear with no ink marks/creases/lines;
The face should occupy about 80% of the photo;
The eyes must be open, and no hair should obscure the face;
Accessories are not allowed;
Head coverings, hair, or head-dress should not obscure the face;
The photo must have a plain white background with no other people or objects in the photo;
The lighting must be uniform with no shadows on the face or behind;
Photos should not have red eyes.
Here is an example: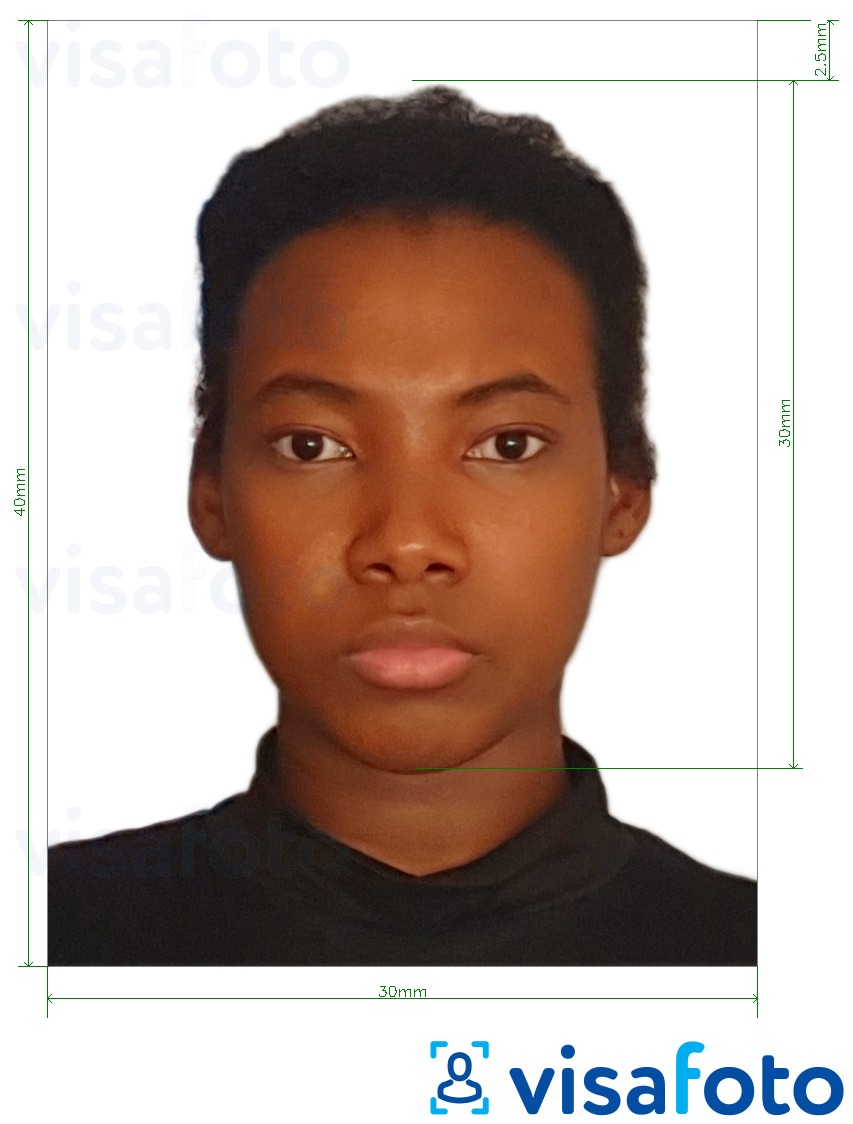 Get a Colombia visa photo online!
Moving abroad can be stressful, so why not make it easier where you can? To ensure your photo fulfills the abovementioned requirements, you may trust this task to a professional online visa photo editor. Visafoto has been converting photos for visas, passports, and other documents since 2013, and it can also take care of your Colombian visa application photo!
Simply follow the posing and dress code instructions explained in the abovementioned requirements, take a portrait picture with decent lighting and any background, and then upload it to our tool below.
Take an image with a smartphone or camera against any background, upload it here and instantly get a professional photo for your visa, passport, or ID.
Visafoto will then adjust the parameters according to the Colombian electronic visa requirements, such as size, background color, and proportions, even down to the subtler things, such as head tilt, and improve the overall image quality.
Take an image with a smartphone or camera against any background, upload it here and instantly get a professional photo for your visa, passport or ID.
Source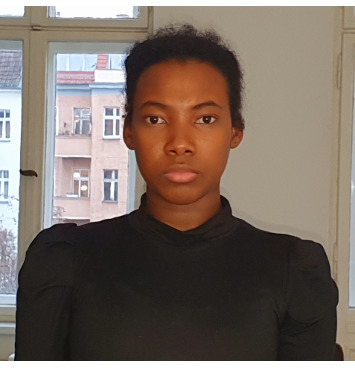 Result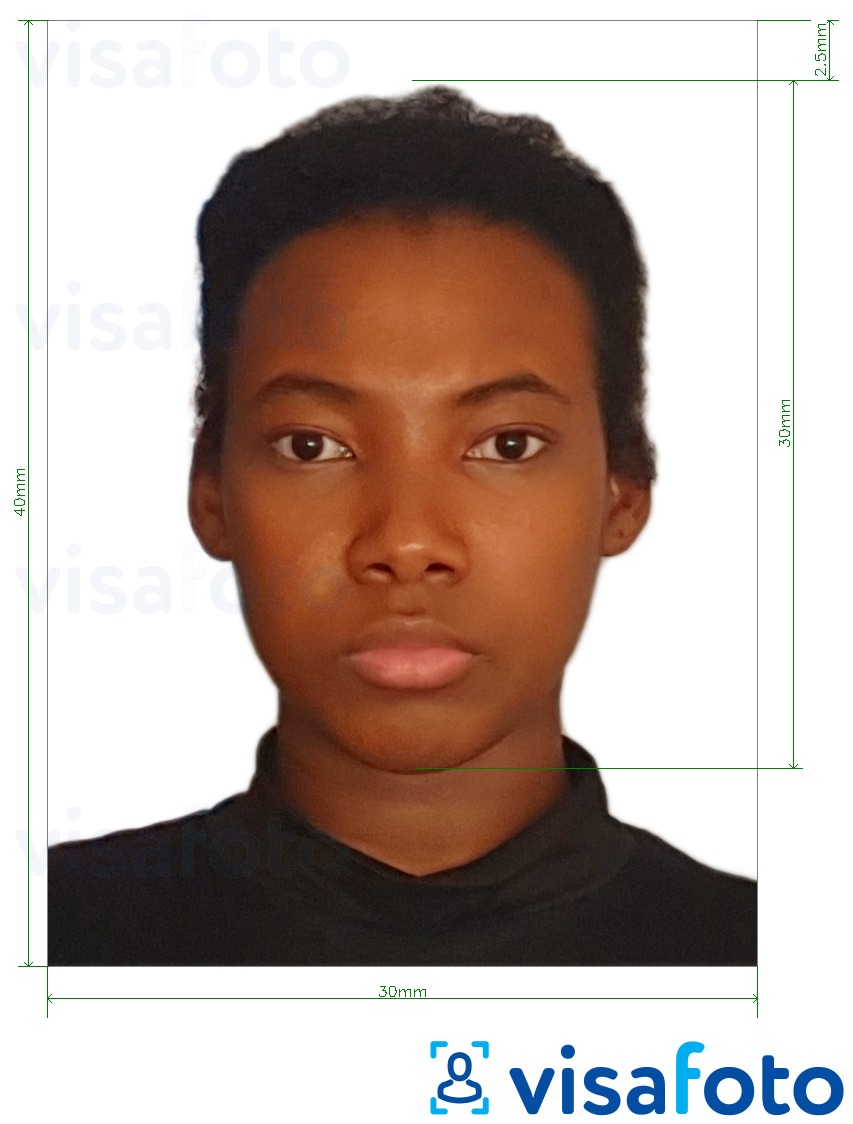 Take an image with a smartphone or camera against any background, upload it here and instantly get a professional picture for your visa, passport, or ID.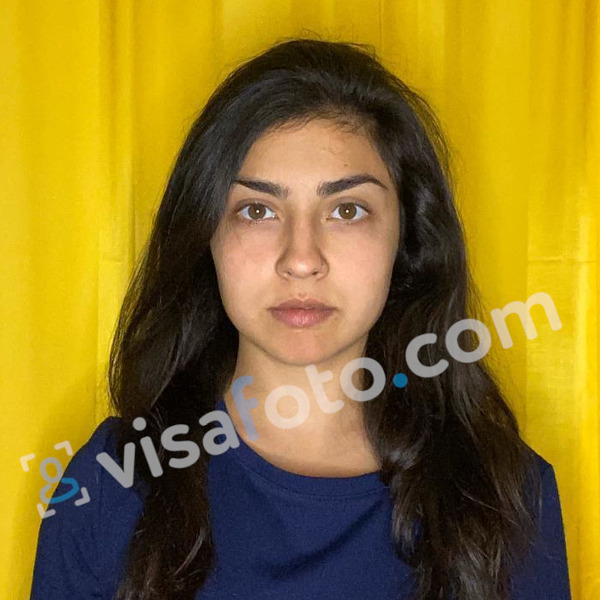 You will need printed photos for your application, but don't worry about photo print formatting: Visafoto has you covered. Besides a digital file containing one photo, you will also get a template ready for printing. Just remember to print it according to the guidelines.
Colombia migrant visa fees
The fees are broken down as follows:
$55 to study your application;
$270 to process the visa;
$50 for the ID card + notarization.
Colombia migrant visa extension
To extend your visa, you must apply again from Colombia, using the same procedure, but now through the Ministry of Foreign Affairs of Colombia.