Indonesia Multiple Entry Visa Application And Photo
Are you planning to stay in Bali or other Indonesian islands for a long time? Recently, the Indonesian government made the visa policy more friendly for long-stayers and avid travelers: now you can get a multi-visa, allowing you to enter the country unlimited times within a period of one to five years.
In this article, we will guide you through applying for a multiple-entry visa and provide helpful tips on capturing the perfect photo for your application.
Table of contents
Indonesia visa policy for tourists in Bali
To enter Bali, Indonesia, there are 3 lanes for foreigners. For citizens of ASEAN countries and Timor Leste, no visa is required for 30 day-stays.
For citizens of EU member countries, the UK, USA, Russia, Japan, Australia, New Zealand, and others, a visa on arrival is available for stays up to 30 days, extendable to 60. You can obtain a Visa on Arrival upon arrival at Bali's Ngurah Rai International Airport or other designated entry points in Indonesia.
If your nationality fits neither the first nor second group, you must apply for a visa in advance.
Expats residing in Bali for a long time often choose the visa-on-arrival option. After 30 days, it has to be renewed at the immigration office. After another 30 days, it is necessary to make the so-called visarun: departure to another country, after which you can apply for a new visa on arrival. However, for many, this option is costly and tedious. First of all, in addition to visarun, you need to appear monthly at the immigration office. Secondly, there is no guarantee that you will be issued a new visa after the next entry.
Another option for long-stayers is the so-called "social visa," which allows you to spend up to six months in Indonesia. This visa requires an extensive package of documents, and if you need to leave Indonesia before the specified period, it is revoked.
Therefore, a multi-visa is a great solution: it also requires leaving the country every two months, but it does not need to be additionally renewed at the immigration office.
New multiple entry visa (D212) rules
On November 28, 2022, the multiple entry visa service was officially reintroduced by Indonesia's Directorate General of Immigration after its suspension due to the COVID-19 pandemic.
The Multiple-Entry Visitor Visa allows foreign nationals to stay in Indonesia for up to 60 days (two months) per visit, with a maximum validity period of 5 years. This visa enables travelers to make multiple entries into the country during its validity period.
The D212 visa is available for the following purposes:
Tourism;
Business meetings, participation in negotiations and conferences;
Purchases of goods;
Filming.
D212 visa does not give you the right to work in Indonesia. If you plan to be employed in this country, you must obtain a separate work permit, the so-called KITAS.
"Can I apply for an Indonesian visa online?"
You can apply for the D212 visa online at the official Directorate General of Immigration visa application portal here.
Indonesia multiple entry visa (D212) application process
The steps of D212 visa application are as follows:
Complete the necessary data on the website of the Directorate General of Immigration's Online Visa Approval platform;
The Immigration Officer will assess the completeness of your requirements;
Upon confirming the completeness of your documents, you will receive a payment code to fulfill the immigration fees as per the regulations;
The Immigration Officer will establish a profile and verify the accuracy of your information;
Once approved, you will receive the visa grant approval;
Your visa will be issued accordingly.
Documents required to apply for a D212 visa
Here are the documents required for the application:
Travel documents, with the following conditions:

Passport valid for at least six years for a five-year Multiple Entry Visa;
Passport valid for at least five years for a four-year visa;
Passport valid for at least four years for a three-year visa;
Passport valid for at least three years for a two-year visa;
Passport valid for at least three years 18 months for a one-year visa;
Passport valid for at least 12 months for a six months visa.

A guarantee letter from the Sponsor (except for tourism purposes visits) or proof of immigration deposit for the Foreign Nationals for pre-investment purposes;
A proof of life expense for the applicant and their family while in Indonesian territory of at least 2,000 USD or equivalent;
A return ticket or onward ticket to another country;
Certificate of a full vaccination from COVID-19;
Two copies of colored photographs fulfilling requirements.
Indonesia visa photo requirements
Make sure your photos fulfill these parameters:
The photo size must be 40 by 60 millimeters;
The image must be in color;
The background must be plain white with no external objects or shadows;
The picture must have adequate brightness and contrast and show natural skin tone;
It should show a close-up of the head and (partial) shoulders;
Your head must be looking straight forward, centered with a neutral expression and in sharp focus, and clear with no ink marks/creases/lines;
The face (from forehead edge to bottom of chin) should be 70 to 80% of the photo;
The eyes must be open, and no hair obscures the face;
Prescription glasses are allowed but have to be clear and thin framed and should not have flash reflection or obscure the eyes;
Head coverings, hair, head-dress or facial ornaments should not obscure the face;
The lighting must be uniform with no shadows on the face or behind;
Photos should not have red eyes.
Here is an example: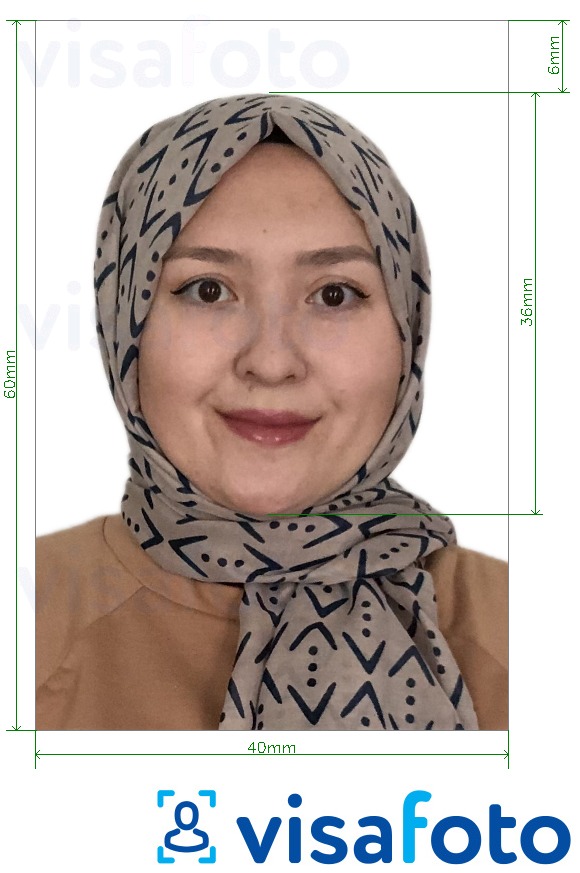 Get a digital Bali visa photo online!
Excited about your trip to Bali? Then don't let it get hampered by bureaucracy, and save your time. One way to do it by having your photo done by professionals, all while being at the comfort of your own home.
With Visafoto, you can simply upload a portrait of yourself with any background and instantly get compliant photos for your application.
Take an image with a smartphone or camera against any background, upload it here and instantly get a professional photo for your visa, passport or ID.
Source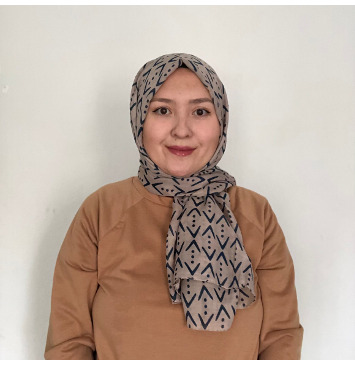 Result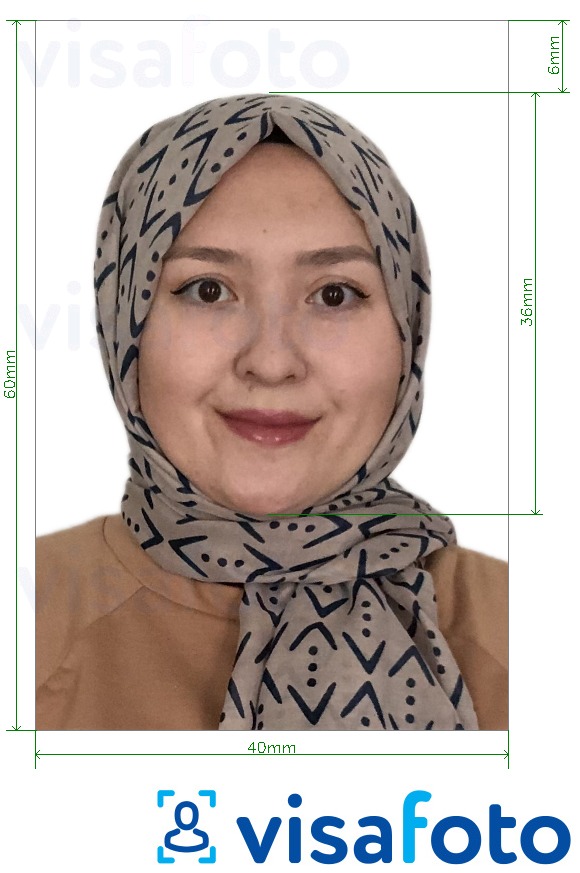 First, take a photo of yours under daylight like this one: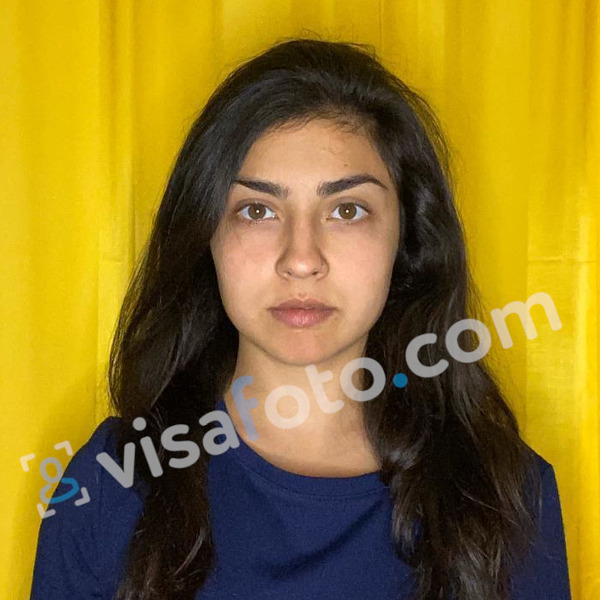 You will have two types of photos: a digital one for electronic applications and another one suitable for printing.
Here they are:
Indonesia multiple entry visa costs
The D212 visa price is divided into two fees:
Visa approval fee: 200,000 IDR per application;
Visa fee: 3,000,000 IDR per person/year (about $200).
How long can you stay in Indonesia on a D212 visa?
The D212 visa allows stays in Indonesia for up to 60 days (two months) per visit, with a maximum validity period of 5 years. Note that it is also a multiple-entry visa.
Indonesia multiple entry visa extension
Extending the visa is impossible, but you can apply for a new one, granted that you fulfill all the requirements. Note that you cannot apply for this visa while in Indonesia.