Kenyan visa photo
Citizens of most countries need a visa to visit Kenya.
As for 2021, you can apply for a Kenyan visa only online at the Gateway to All Government Services. A visa to Kenya can be obtained for a period of 90 days.
Table of contents
Don't forget to provide a photograph along with the application form. Photos that do not meet Kenyan visa photo requirements may not be accepted. Therefore, high-quality photographs are essential for the success of your Kenyan visa application.
How to apply for a Kenyan visa online?
Citizens of more than 100 countries can obtain an electronic visa for Kenya. After an application form with all necessary information is submitted and payment is made online, applicants receive the visa by e-mail.
To apply for a visa online, go to the Republic of Kenya Electronic Visa System website. Complete these actions:
Create an account;
Select the required type of visa (such as tourist or transit);
Fill out a questionnaire;
Attach a passport copy, a digital Kenyan visa photo, and other documents according to the instructions of the system;
Pay the visa fee by credit card.
Documents required for Kenyan visa application
To apply for a tourist visa in Kenyan Embassy or Consulate, the following documents must be submitted:
passport valid for at least 6 months at the time of submission of documents;
2 copies of the first passport page with the applicant's data;
2 photographs corresponding to photo requirements for a Kenyan visa;
2 visa application forms completed in English and signed personally by the applicant;
2 copies of an invitation from a Kenyan travel company or a confirmation of hotel reservation;
a printout of air tickets in both directions, or tickets to a third country.
The list of required documents is different for the other types of visas. Currently, no paper submissions are available (as for 2021).
Kenyan visa photo requirements
Kenyan visa application photo requirements are:
The photo must have been taken within the last 6 months;
Photo size for a Kenyan visa application should be 2x2 inch (51x51 mm, 5.1x5.1 cm);
The photo must be colored;
The photo must have a plain white or off-white background;
The photo should be full-face and show the applicant's face front view.
The applicant must be worn in normal streetwear. In the photographs, it is prohibited to wear uniforms, except religious clothing, which is worn daily.
Do not wear a hat or headgear that covers your hair or hairline.
The size of a photo for an online Kenyan visa application should be 207 x 207 pixels.
Here is an example of a 207x207 pixel photo: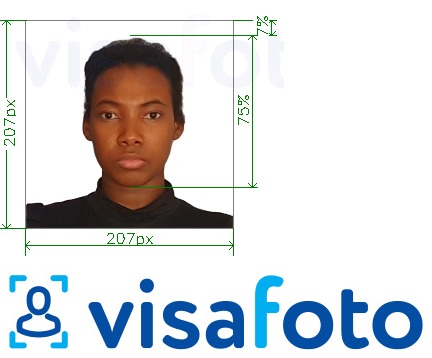 Can I wear glasses in the Kenyan visa photo?
If you usually wear prescription glasses, they should be worn on your photo. Sunglasses or over-the-counter glasses with tinted lenses are not acceptable if you do not need them for medical reasons. A medical certificate may be required.
Kenyan visa photo: matte or glossy?
The photo you submit with your paper visa application must be printed on quality photo paper. The specific type of such paper is not regulated by official photo requirements for a Kenyan visa.
Kenyan visa photo tool
What's the best way to take a photo for a Kenyan visa application? Given that the Kenyan visa application photo size is surely specific and different from most passport-sized photographs, it is best to commit this task to dedicated online tools. With Visafoto, you can take a photo for a Kenyan visa anywhere in the world!
Take an image with a smartphone or camera against any background, upload it here and instantly get a professional photo for your visa, passport or ID.
Source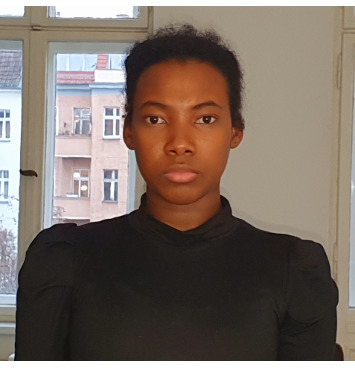 Result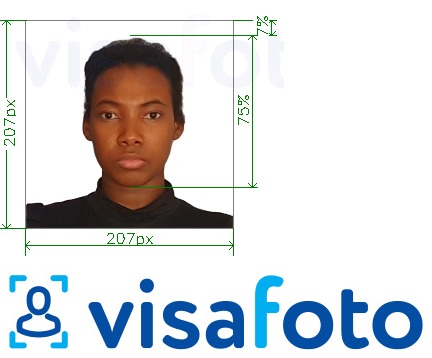 Use our Kenyan visa photo generator to get the fastest results possible. Just upload a full-face shot taken in normal lighting. Visafoto will immediately resize and format it as needed, replace the background with plain white and improve the overall image quality. The resulting image will meet 100% photo requirements for a Kenyan visa.
First, take a photo of yours under daylight like this one: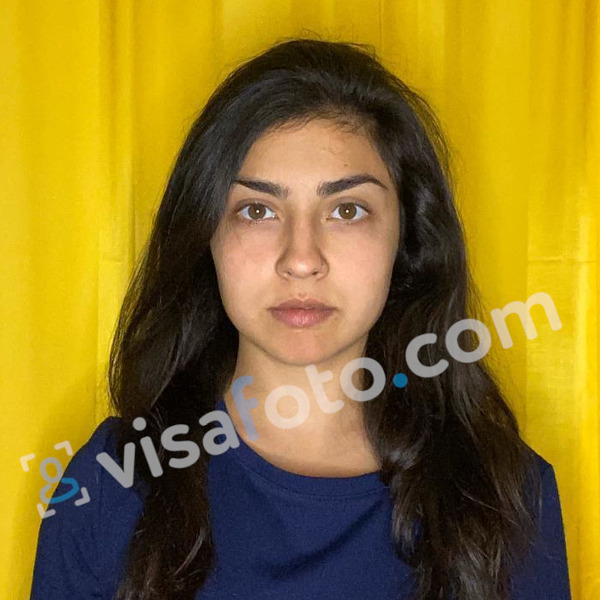 You will have two types of photos:
A digital photo with the size of 207 x 207 pixels for Kenyan e-Visa application;
A printable template with four individual 4x6 Kenyan visa pictures for paper submission.
Here they are:
Where can I get help with my Kenyan visa photo?
Our support team is ready to help you 24/7.
Links