NZeTA Application FAQ
NZeTA is an acronym for New Zealand electronic travel authorization: a permit that entitles you to enter New Zealand for up to six months within 12 months. Learn who is eligible to apply and how to do it below!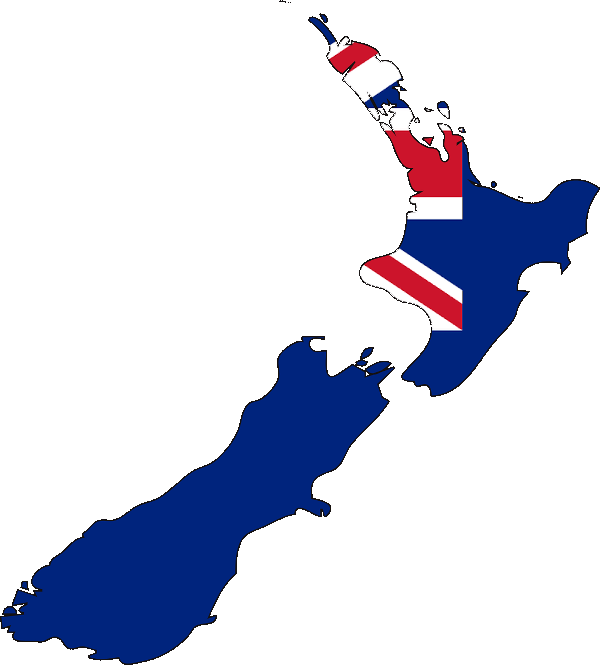 Table of contents
NZeTA visa policy
Some visitors to New Zealand or transit passengers passing NZ can enter without a visa but must have this electronic travel authorization. It is issued to foreigners from countries that are on the visa waiver list. The NZeTA is valid for two years and can be used for multiple visits.
NZeTA eligible countries
Nationals of listed visa waiver countries can enter New Zealand with NZeTA instead of a visa:
Andorra
Argentina
Austria
Bahrain
Belgium
Brazil
Brunei
Bulgaria
Canada
Chile
Croatia
Cyprus
Czech Republic
Denmark
Estonia (citizens only)
Finland
France
Germany
Greece
Hong Kong (residents with HKSAR or British National–Overseas passports only)
Hungary
Iceland
Ireland
Israel
Italy
Japan
Korea, South
Kuwait
Latvia (citizens only)
Liechtenstein
Lithuania (citizens only)
Luxembourg
Macau (only if you have a Macau Special Administrative Region passport)
Malaysia
Malta
Mauritius
Mexico
Monaco
Netherlands
Norway
Oman
Poland
Portugal (if you have the right to live permanently in Portugal)
Qatar
Romania
San Marino
Saudi Arabia
Seychelles
Singapore
Slovak Republic
Slovenia
Spain
Sweden
Switzerland
Taiwan (if you are a permanent resident)
United Arab Emirates
United Kingdom (UK) (if you are travelling on a UK or British passport that shows you have the right to reside permanently in the UK)
United States of America (USA) (including USA nationals)
Uruguay
Vatican City
Additionally, if you are transiting through New Zealand from the following transit visa waiver countries, you have to apply for an NZeTA:
Bahamas
Bermuda
Bolivia
Colombia
Costa Rica
Ecuador
Federated States of Micronesia
Indonesia
Kiribati
Nauru
Palau
Panama
Papua New Guinea
Paraguay
Peru
Philippines
Republic of Marshall Islands
Samoa
Solomon Islands
Thailand
Tonga
Tuvalu
Vanuatu
Venezuela
NZeTA application process
To apply, follow these steps:
Start an application on the NZeTA official website or free application;
Fill out the form with your personal and travel details, and submit needed documents;
Pay for the application online;
Wait for processing and receive your ETA.
NZeTA photo requirements
The photo requirements for an NZeTA are the same as for NZ visa:
Paper photos must be 35 mm wide and 45 mm high;
Digital images must be less than 10 MB;
Digital visa photo dimensions must be 540 x 720 pixels;
The format for digital images must be JPG (or JPEG);
The background must be light and plain but not white, with no other objects;
The camera should be about 1.5m away from you and at eye level to make sure that your face and ears are captured completely;
Your head must be centred in the photo, and part of your shoulders and upper chest must be visible;
Your face and facial features must be discernible in the picture;
No distortions and digital enhancements are allowed;
Keep your facial expression neutral and look straight into the camera;
Glasses with tinted lenses or thick frames are not allowed;
No head accessories or gear are permitted except for religious or medical reasons. Your face must be fully visible in the photo;
Wear only plain clothing patterns.
Here is an example: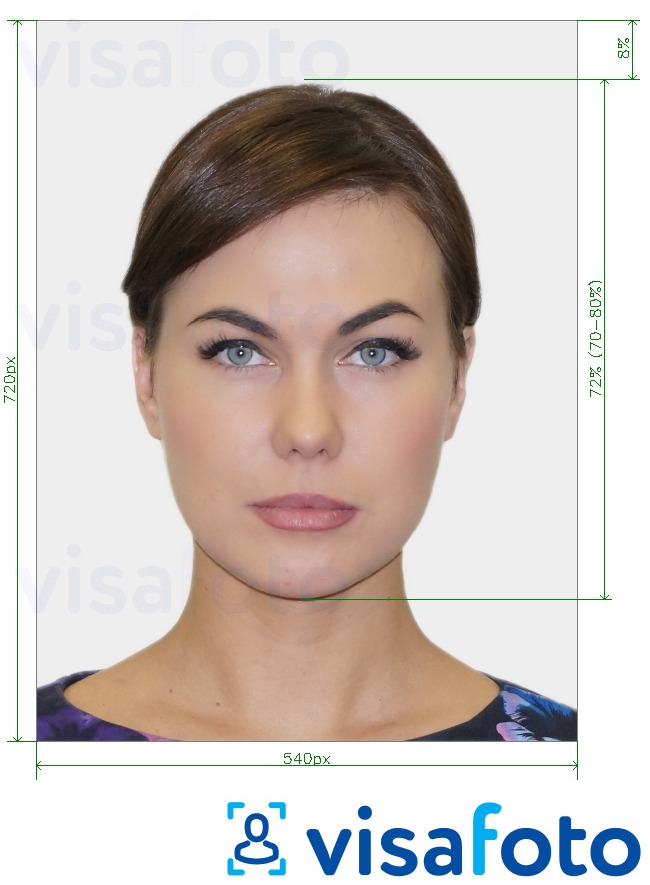 Get an NZeTA visa photo online!
The NZeTA makes it much easier to travel and transit through NZ if you're qualified to use it, but you still need to make sure that your application for this document is fully compliant so it gets accepted, and you can enter with no problem.
One of the ways you can make sure of that is by using a compliant photo, with which Visafoto can help you. With Visafoto, you can get a photo for your citizenship application that's guaranteed to be accepted without going to a professional photo studio. This way, you can take care of your other documents, and rest assured that the photo will be accepted.
Simply take a picture of yourself following the guidelines and upload it to our tool below. No worries about the format, background, sizes, and dimensions: we'll handle that for you.
Take an image with a smartphone or camera against any background, upload it here, and instantly get a professional photo for your visa, passport, or ID.
Take an image with a smartphone or camera against any background, upload it here and instantly get a professional photo for your visa, passport or ID.
Source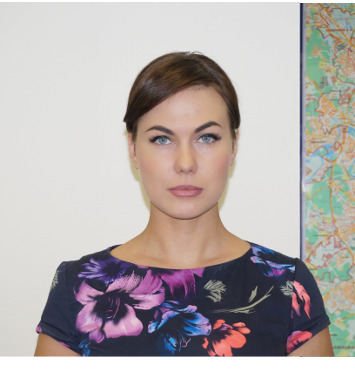 Result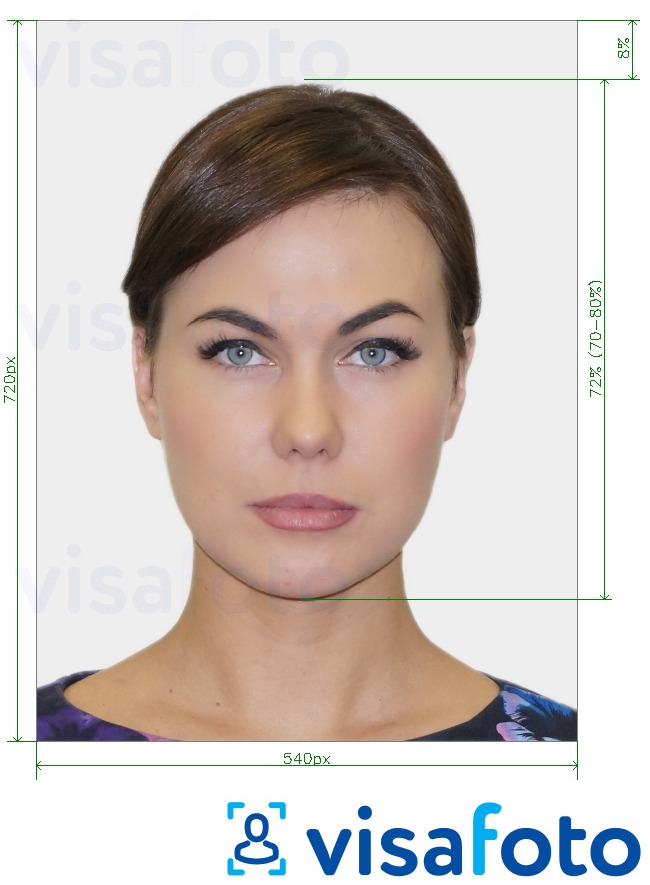 First, take a photo of yours under daylight like this one: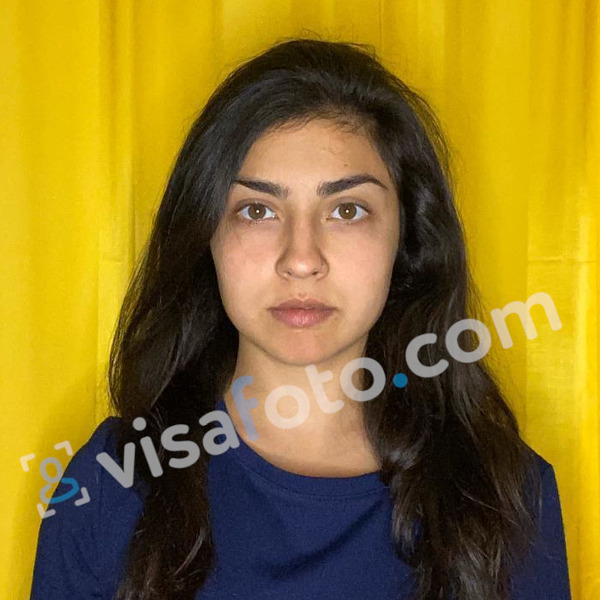 You will have a digital picture of the right dimensions and background which you can use for electronic submission.
Here is the example:
There is an error when I try to attach a photo to my NZeTA application. What to do?
We have prepared a separate guideline for this case.
Do I need NZeTA if I have a New Zealand visa?
No. As we have explained, NZeTA is only issued to those who qualify for a visa waiver. Besides, a visa already serves as a travel authorization, so no electronic travel authorization is needed.
How to check my NZeTA application status?
Here are a few common options to check if your NZeTA is ready:
Check the NZETA website: The official NZETA website (www.immigration.govt.nz) may provide information on the status of your application. Look for a section on "check your application status" or "my account" where you can log in to view the status of your application.
Contact the NZ immigration service: If you are unable to find the information you need on the NZETA website, you can contact the New Zealand immigration service directly by email or phone.
Check your email: If you applied for an NZETA online, you should have received an email confirming your submission. You may also receive additional emails with updates on the status of your application.
Check with the travel agent or service provider: If you applied for an NZETA through a travel agent or online service provider, they may have their own system for tracking the status of your application. Contact them directly for information.
Do I need to print out NZeTA?
Yes, you need to print out your NZeTA and present it during the immigration check with your passport.
Do I need NZeTA for transit?
Let's start with the basics: for transit in NZ, you need travel authorization to enter the country. This can be in the form of a transit visa or an NZeTA.
If you are transiting from a country in the transit visa waiver list (as we have mentioned above), you will need to apply for an NZeTA, but not a visa.
How long does it take to get NZeTA?
The NZeTA can be issued in as quickly as 10 minutes, but the processing time is 72 hours. So, make sure to apply on time so you can make sure you can pass through immigration with ease.
NZeTA request cost
It costs NZD 17 to apply through the NZeTA mobile app or NZD 23 to apply on the online form. Besides the NZeTA application fee, you must pay an International Visitor Conservation and Tourism Levy (IVL), which costs NZD 35.
Do Australians need to apply for NZeTA?
No. Australian citizens do not need an electronic permit or visa to travel to New Zealand. All that is required is a valid passport.
Do NZ permanent residents need NZeTA?
No. As a permanent resident, you have the right to live and work in New Zealand permanently and therefore do not need an NZeTA for travel. However, if you have been away from New Zealand for a period of time and your permanent residency has expired, you may need to apply for a new permanent residency visa. In this case, you must follow the standard visa application process.
Do babies need an NZeTA?
Yes, NZeTA is mandatory for all minor travellers, including infants.
For how long NZeTA is valid?
As mentioned above, the NZeTA validity is two years from the date of issue. The travel authorization is multiple, meaning you can enter New Zealand several times within this period. The length of stay should not exceed 90 days per entry.
How to correct an error in the NZeTA application?
You can ask to update your application through this form: This form.​ You can change misprints in your name or passport number, add a new email address or provide a number of a new passport.
If you have made serious errors such as the wrong country of origin or the type of NZeTA requested, you must submit and pay a new application.
NZeTA app is not working. What to do?
If you're experiencing difficulties with the NZETA application process, there are several steps you can take to resolve the issue:
Try using a different device or browser. Access the NZETA application on a different computer or device, or using a different web browser such as Google Chrome, Mozilla Firefox, or Safari.
Clear your browser cache and cookies. Follow the instructions for your specific browser to clear these items.
Contact the NZ immigration service. If you are still having trouble with the application, you can contact the New Zealand immigration service for assistance. You can find the contact information on the official NZETA website (www.immigration.govt.nz).
Last update: February 2023