Thailand visa photo
In most cases, a Thai visa is required for a stay in the country for more than 30 days.
A tourist visa, which allows you to stay in Thailand for up to 60 days, must be applied for in advance before arrival. Once in the country, the visa can be extended for an additional 30 days.
A high-quality photo must be submitted along with the other visa documents.
Table of contents
Color photographs are required for both the first application and for the extension of the Thai visa. The photographs must meet the Thai visa photo requirements to complete the visa application.
Documents required for Thailand visa application
Required documents for obtaining a tourist visa to Thailand are:
Application form with the personal signature of the applicant;
Passport valid at least 6 months from the date of the end of the trip;
A photocopy of the first passport page;
Return tickets;
A photo matching Thailand visa photo requirements.
Depending on which country's consulate you are applying for a visa, you may need supporting documents such as:
Bank statement with a proof of funds in the amount of at least 800 USD per person per month or 1.500 USD per family per month;
Accommodation booking;
A document from the place of work on the company letterhead indicating the position and salary of the applicant.
The package of documents is different for other types of visas.
Note that during the COVID-19 pandemic everyone arriving in Thailand from other countries is required to undergo quarantine for 7 to 14 days at one of the licensed Alternative State Quarantine hotels. The rule is valid at least until September 30, 2021.
Thailand Special Tourist Visa: conditions and required documents
Special Tourist Visa is a new long-term visa to Thailand launched after the border reopening in 2020. Under the STV scheme, long-staying visitors can spend in the country up to 90 days and extend this period twice, each for a further 90 days. Therefore, STV allows tourists to stay in Thailand for 180 days in a row.
The conditions for obtaining a Special Tourist Visa (STV) are:
STV visa is valid for a single entry to Thailand for a long-term stay for tourist purposes only.
The following applicants are eligible for STV:
Applicant must not be prohibited from entering the Kingdom under the Buddhist Era Immigration Law 2522 (1979);
Applicant must not have a criminal record in Thailand and in the country of residence;
Applicants must not suffer from diseases that prevent entry (leprosy, tuberculosis, drug addiction, elephantiasis, third stage of syphilis) specified in Ministerial Ordinance No. 14 of the Buddhist era 2535.
Upon entering Thailand, the tourist will be granted a residence permit for a maximum period of 90 days. This permit can be renewed while the tourist is in Thailand, a maximum of 2 times with a maximum validity of 90 days for each extension.
STV cannot be exchanged for any other type of visa while staying in Thailand.
If the STV visa holder is found to have violated the conditions of entry into Thailand, the residence permit will be immediately revoked and he/she will be prohibited from entering Thailand.
The applicant must submit all the required documents listed below when applying for a Special Tourist Visa at least 15 working days before the expected departure:
Passport valid for more than 12 months from the date of entry into Thailand;
Two passport copies;
Two recent photographs matching Thailand visa picture requirements;
Two completed and signed visa applications;
Fully paid Alternative State Quarantine (ASQ) hotel booking;
Proof of payment for accommodation after the quarantine period;
Health insurance valid for the entire stay in Thailand, covering at least 40,000 baht outpatient care and at least 400,000 baht inpatient care;
Medical certificate confirming the absence of diseases that prevent entry and specified in the Ordinance of the Ministry No. 14 (Buddhist era 2535);
Proof of kinship for the spouse (marriage certificate) and the children under 18 (birth certificate);
Application fee of 80 USD.
Thailand visa photo requirements
To apply for a visa to Thailand, you should provide a photograph meeting the following Thai visa application photo requirements:
The photo must have been taken no later than six months ago;
Thailand visa photo size should be 4 x 6 cm; some consulates may required the photo with the size of 35x45 mm;
Face size should be about 75% of the height of the picture;
The distance from the bottom edge of the photo to eye level should be ⅔ from the height;
The photo must be in color;
The photo must have a white or light plain background;
The upper part of the shoulders must be visible;
The face and shoulders should not be covered with hair;
A clear face with a neutral expression strictly in front view is required.
Here is an example of a Thai visa photo: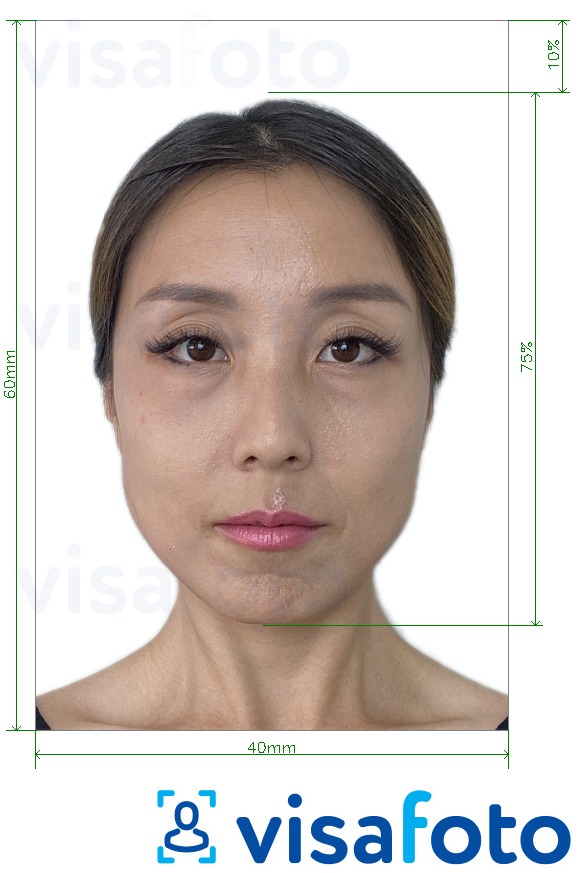 Can I wear glasses in my Thailand visa photo?
For applicants wearing glasses daily, it is compulsory to take pictures with glasses without tinted glasses. The frame of the glasses must not cover the eyes.
Can I wear the hijab in the Thailand visa photo?
It is allowed to provide photographs in religious headdresses that do not hide the facial oval.
Thailand visa photo tool
What is the surest way to take a Thailand visa picture? Because the Thailand visa application photo size is pretty special and different from most passport-sized photos, it is best to leave this task to specific online tools. With Visafoto you can take a Thai visa pic from anywhere in the world!
Take an image with a smartphone or camera against any background, upload it here and instantly get a professional photo for your visa, passport or ID.
Source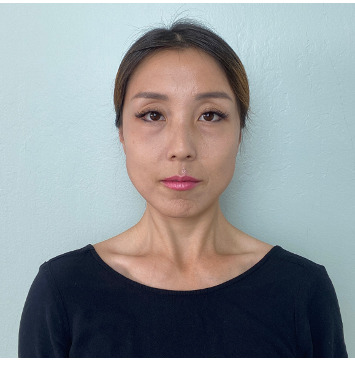 Result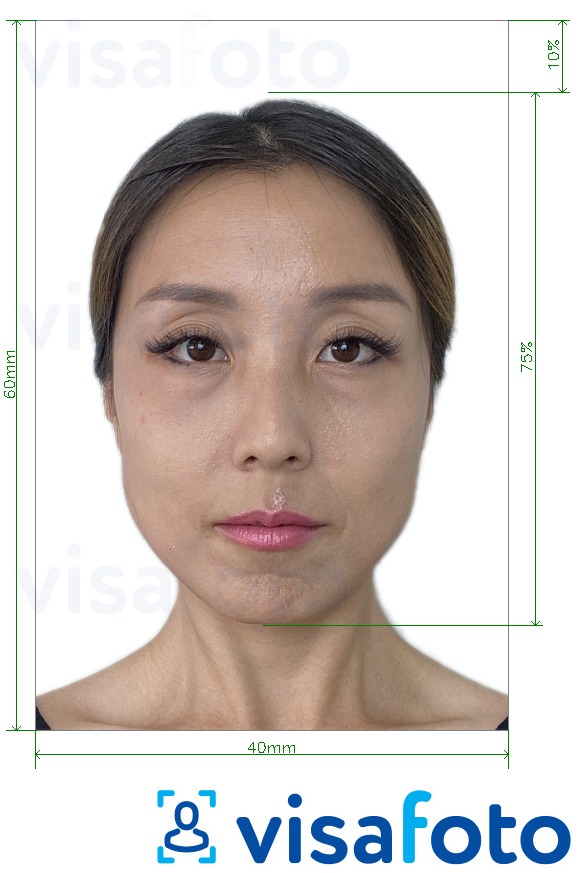 Use our Thailand visa photo generator to get the fastest results. Simply upload a full-face photo taken under usual lighting. Visafoto will immediately resize and format it as demanded, replace the background with plain white and enhance the overall image quality. The resulting picture will be 100% compliant with photo requirements for a Thai visa.
First take a photo of yours which will look like this one: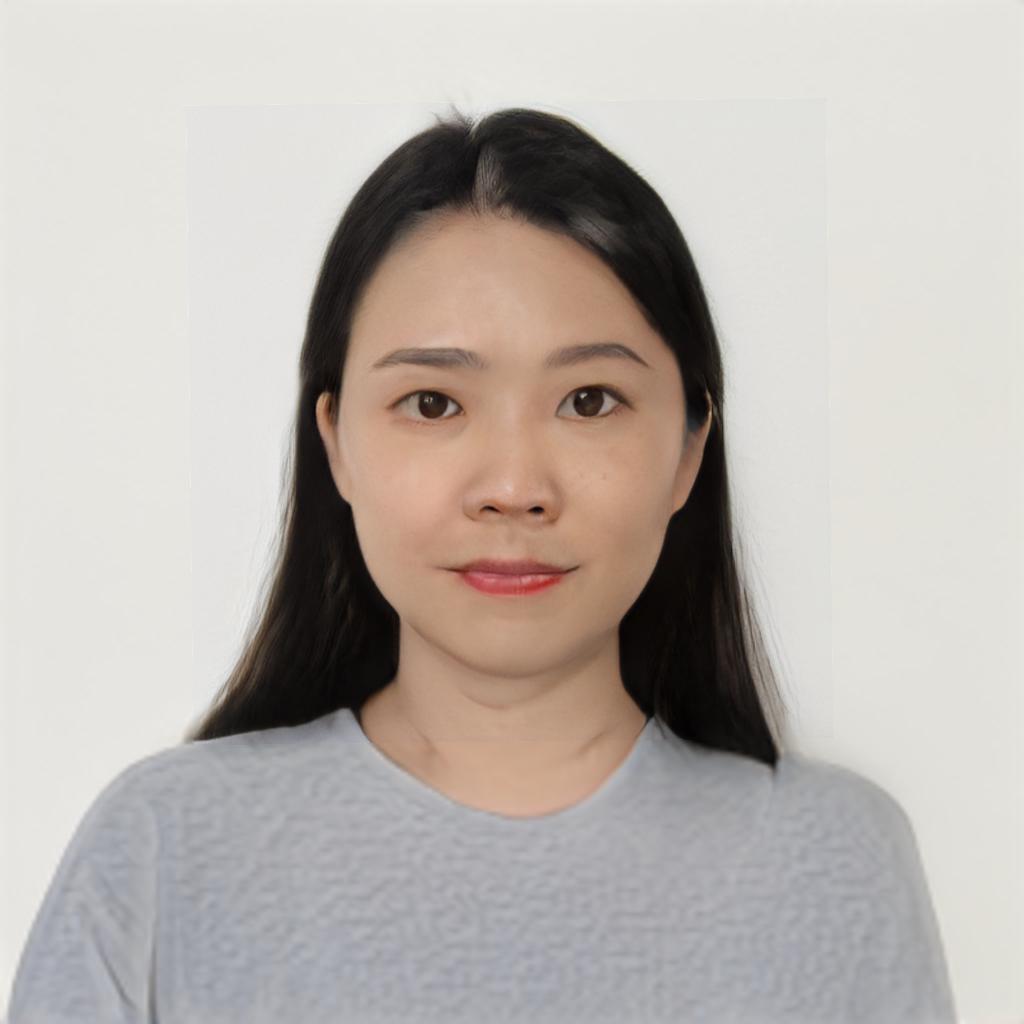 You will have two types of photos:
The digital one is for applications online;
The printable template with 4 individual Thai visa pictures.
Thailand visa photo: matte or glossy?
The photo must be printed on high-quality matte paper.
What types of Thailand visas require photos?
The information above suits the photos to the next types of visa:
Thailand tourist visa photo;
Thailand Special Tourist visa photo;
Thailand business visa photo;
Thailand student visa photo;
Thailand elite visa photo;
Thailand smart visa photo;
Thailand Medical Treatment photo;
Thailand working visa photo;
Thailand spouse visa photo.
Links